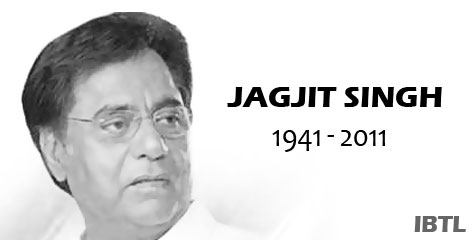 Recipient of Padma Bhushan award, renowned ghazal singer Jagjit Singh passed away at 8 am in Lilavati Hospital on Monday morning. He was 70. He is survived by his wife Chitra Singh.
Jagjit Singh was admitted to the Hospital on September 23 after he suffered brain haemorrhage. A a life-saving surgery was performed on him.
Popularly known as "The Ghazal King", Jagjit Singh was born in Sri Ganganagar, Rajasthan, and was known as Jeet by his family members.
He has sung in several languages including Hindi, Punjabi and Nepali. He gained acclaim together with his wife, another renowned Indian ghazal singer Chitra Singh, in the 1970s and 1980s, as the first ever successful duo act (husband-wife) in the history of recorded Indian music. His popular ghazals include, Meri zindagi kisi aur ki, mere naam ka koi aur hai, Apni marzi se kahan apne safar ke hum hain, Wo jo hum mein tumme qaraar tha, Patta-patta boota-boota haal hamaara jaane hai, Hoshwalo ko khabar, etc. His bhajans like "Hey Ram dhun" and "Bole Ram, Aaja Ram" mesmerized a lot of Ram bhakts and Hindus at large across the world.
Share Your View via Facebook
top trend
what next
IBTL Gallery