Steve Jobs Helped Me in My Fight for Jan Lokpal: Anna Hazare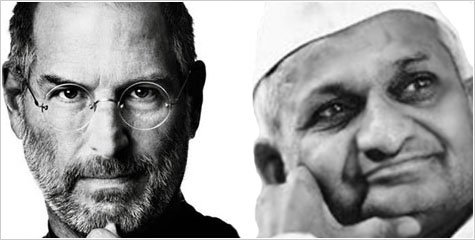 Anna Hazare followed the Lokpal debate of Parliament on his iPad during his fast. Genuinely, he has paid his tribute to the gadget's creator Steve Jobs, saying his innovations have helped him in his fight for Jan Lokpal Bill. Anna acknowledged that technology has been helpful in organising people to fight against injustice and corruption.
"Steve Jobs will always be remembered for his unparallelled contribution to the world of technology. The news of his death is saddening," Hazare said in his blog posting after Jobs, the co-founder of Apple which developed the iPad, died in New York on October 6. "His contribution will be remembered forever. Jobs used his imagination and futuristic viewpoint as he worked on his research hence his revolutionary thoughts will always hold an important place in modern history," he said.
"Though he is not present physically, his work has immortalised him forever. Here, I will quote Samarth Ramdas, a saint from Maharashtra, 'marave pari kirti rupi uraave' (When a person is no more, he should be remembered for his work)," he said.
Share Your View via Facebook
top trend
what next
IBTL Gallery