The anti-corruption movement in India is the result of Dr. Swamy's efforts : Indian Americans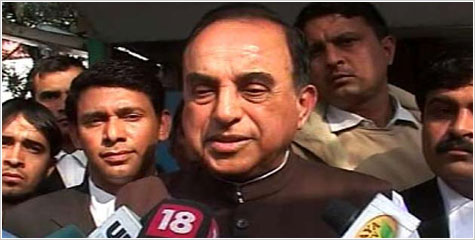 The Indian American community has openly stood up in support for the crusader against corruption Dr. Subramanian Swamy, who is a guest faculty at Harvard University and is currently on the radar of the UPA government in India for targetting several ministers and even the Gandhi family in connection with the multi-billion dollar 2G scam.
Dr. Swamy is being hounded by governmental agencies for writing an article three months ago in which he had appealed to all the Hindus to unite against the biggest challenge of the world -- Islamic terrorism.
The Save India From Corruption has, in its press release, announced a that a protest is being organized to express disgust and abhorrence against the unwarranted harassment of Dr. Swamy, a former cabinet minister, who has emerged as the embodiment of resistance against totalitarian and corrupt system. "The anti-corruption movement in India is the result of Dr. Swamy's efforts started as far back as 2008. He is the one person out of 1.2 billion who could nail many of the culprits of the 40 billion dollar 2G scam, from Raja, Kanimozhi and many others," the press release says.
The release also accuses India's Home Minister P. Chidambaram and the Crime Branch of the Delhi Police of falsely registering a case against Dr. Swamy. In a recent poll conducted in The Times of India, 81 percent of the people said that Dr. Swamy is being targeted by the UPA Government for his role in the 2G spectrum scam case. In addition to filing frivolous FIRs, the government has so far refused to act on his request for housing in a safer environment in New Delhi to protect from Congress goons and Jihadists.
Share Your View via Facebook
top trend
what next
IBTL Gallery