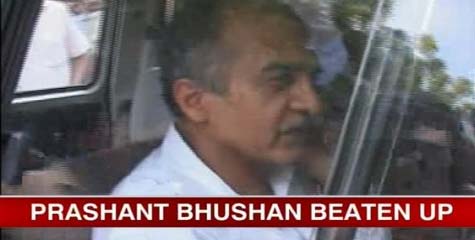 Team Anna member Prashant Bhushan has paid a heavy price for his anti-national rants. He had recently spoken for a plebiscite at Kashmir which could potentially lead to secession of Kashmir from India. He was allegedly beaten up by three young Indians inside his chamber in the Supreme Court on Wednesday. The youth who assaulted him claimed to belong to the outfit Bhagat Singh Kranti Sena. The attackers pulled the lawyer out of the chair, slapped, dragged and repeatedly punched him.

One of the attackers, Inder Verma of Nangloi, Delhi, has been arrested while the other two managed to escape. He explained that he and his associates had only come to seek Bhushan's explanation on the comments but they were attacked by the lawyer's aides. Bhushan, who has been taken to the Ram Manohar Lohia Hospital, was attacked while he was giving an interview to a news channel. Delhi Police has filed an FIR against the arrested person and are investigating the case.

Bhagat Singh Kranti Sena has proudly owned the responsibility."We are taking responsibility for beating prashant Bhushan for his statement against national integrity," Tajinder Pal Singh Bagga, President of Bhagat Singh Kranti Sena said. "We hit Prashant Bhushan hard in his chamber in Supreme Court. If you will try to break my nation, I will break ur heads," his Facebook status update said.
Share Your View via Facebook
top trend
what next
IBTL Gallery