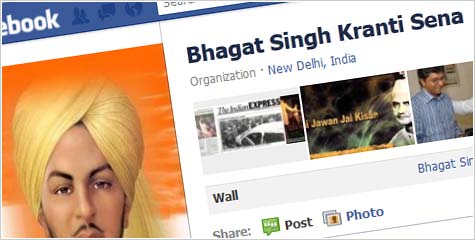 Three young men, members of the hithertoo little known Bhagat Singh Kranti Sena shone to news by attacking lawyer Prashant Bhushan in his chambers at the Supreme Court when Bhsuhan was giving an interview to news channel Times Now. Bhushan was beaten up in front of the television cameras. One of the attackers who was subsequently placed under arrest, said that the attack was motivated by comments Bhushan had made in Varanasi relating to the possibility of holding a referendum in Jammu and Kashmir.
Bhagat Singh Kranti Sena claimed responsibility for the attack on their Facebook page, stating "we hit prashant bhushan hard in his chamber in supreme court. if u will try to break my nation, i will break ur heads". A post six hours earlier, read "God give us power to complete our mission."
The Facebook description of "Bhagat Singh Kranti Sena" reads the following, "A team of guys who are crazy for nation, those who can do anything for Nation. A task force against traitors, anti nationals & corrupts. A team of people, those who are ready to take any action to teach anti nationals & traitors. A team of guys those who can die for the nation &……….. oooppssss srrry. Not die we are dying frm last 1000 years, first Mughals killed us then Britishers killed us & now the traitors inside the Nation killing us. Now we will not die, if we will die, then who will give right treatment to the traitors & anti nationals. Time has come to give reply to the peoples those who are trying to divide my nation from Kashmir to Arunachal. I think indication is Enough. Then why are you waiting. Join us & become threat for Anti nationals & Traitors. Khoon se khelenge holi gr vatan mushkil me hai, sarfroshi ki tammana ab hmare dil me hai"
Tajinder Pal Singh, is the administrator of the page. His Twitter account, had an added congratulatory message to the "team" because "operation Prashant Bhushan" was a success. Singh writes on his Twitter profile to be "Frustrated from Congress, Corruption, Traitors & Anti-Nationals & Motivated from A Wednesday movie. Tejinder's blog has pictures of the Sena participating in protests supporting Anna Hazare outside Tihar jail.
Share Your View via Facebook
top trend
what next
IBTL Gallery