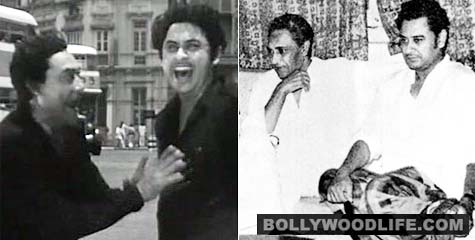 Few are aware of the fact that Ashok Kumar's birth anniversary coincides with the death anniversary of his younger brother Kishore Kumar. Today we think of the brothers and the bond they shared.
Kishore Kumar's career started long after his elder brother Ashok Kumar Ganguly had already become a star. Young Kishor didn't even know that Ashok was his brother and would often wonder why his mother fed Ashok each time he came home from Mumbai. Slowly Ashok's family started visiting Mumbai too, taking the young Kishore along.
In 1949, Kishore came to Mumbai from his native place in Khandwa, hoping that his elder brother and film star Ashok Kumar would introduce him to his idol – singer KL Saigal. He started working as a chorus singer with the then-flourishing Bombay Talkies. Kishore always harboured playback singing ambitions even though Ashok wanted him to be an actor. He got Kishore a role in a film called Shikari where Ashok played the lead role. But Kishore continued to strive to get singing work.
Kishor finally got to sing a song in Dev Anand's Ziddi (Marne ki duayen kyon mangu) and offers started flowing in. Kishore kept getting roles as lead actor and did some of them,but Ashok encouraged him to continue in both singing and acting. The brothers worked together several times, once even adding the third sibling Anoop Kumar for the comic caper Chalti Ka Naam Gadi in the year 1958. There was an intimate bond between brother. Ever since Kishore died on October 13, 1987, Ashok's birthday, the elder brother never celebrated it ever after.
Share Your View via Facebook
top trend
what next
IBTL Gallery