Team Anna rift? Santosh Hegde takes dig at Arvind Kejriwal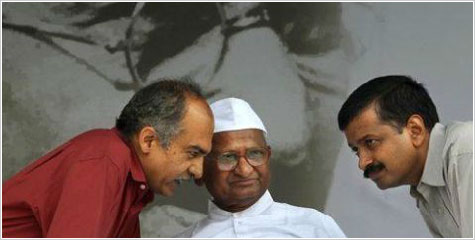 Team Anna which created an environment for a Strong Lokpal in Metropolitan cities, and offered Congress some relief by diverting attention from Baba Ramdev's pan-Indian campaign for bringing back Black money, is now showing wide cracks as members pursue their individual agendas.
While Anna Hazare and other team members distanced themselves from Prashant Bhushan's advocacy to allow a plebiscite in Kashmir Valley, Justice Santosh Hegde hit out at Arvind Kejriwal for siding with Congress's opponents in Hisar Lok Sabha by-election.
Hegde, who was a representative of Team Anna in the joint drafting committee on Lokpal Bill, also took a dig at Kejriwal for his remarks that Hazare was above Parliament, observing that such things happen when somebody talks "too much". The retired SC judge said, "I believe (Hazare) movement is and should be apolitical. Even before Parliament could debate the Lokpal Bill, they went to Hisar and campaigned against the Congress. I don't think it was the right thing to do." He said there was no specific consultation on campaigning in Hisar and after he raised his opposition, Kejriwal called him to clarify that the plan to oppose candidates had been shared and discussed. He also said that corrupt candidates were in all parties and not just in Congress.
Also Anna Hazare himself appeared ambivalent on Bhushan's continuation in the core team. While he first indicated his ouster, later he refined his stance saying, "I would like to state here, that besides Prashant Bhushan's opinion on the Kashmir issue, he is still an integral part of our team". Kejriwal too issued a denial that Bhushan could be dropped.
Meanwhile, Hazare has postponed his planned 'yatra' till the end of the winter session of Parliament. However, other members of the team will visit Uttar Pradesh from October 17 educating people about the need for a strong Lokpal. Asked why they were not opposing BSP, Kejriwal said that there is no need for that. Team Anna members also said they feared further attacks against their members and it appeared that this was a conspiracy by the government to take attention away from the issue of corruption.
Share Your View via Facebook
top trend
what next
IBTL Gallery