E-Governance - the gem behind Gujarat's exponential progress - Modi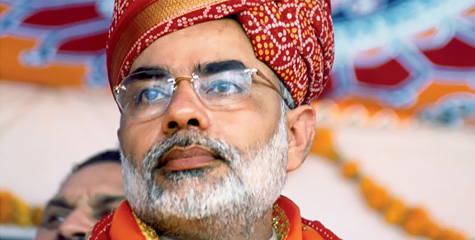 Inaugurating the 8th international conference on e-Governance jointly organized by Communication Society of India (CSI) and Gujarat Government at Nirma University, Chief Minister Narendra Modi defined e-governance as easy-effective-economic governance with a view to applying the technology in everyday life for the welfare of the common man. The Chief Minister was presented with the e-Ratna Award of CSI at the function.
Gujarat has laid an Information & Communication Technology network to redress people's grievances down to the village level.
While addressing the distinguished gathering Modi recollected how when he took charge of the office, there was reluctance among the Government employees in using technology, and how it was then made mandatory that all communication from Chief Secretary down to officers would be through email and paper correspondence would be discontinued. That was how Gujarat began to change. Citing examples of cooking gas cylinders and initial reluctance of women folk to switch to it and discontinue using Chulha, he stressed upon the point that it's human tendency to be reluctant to any new technology, but once adopted, it becomes a part of life.
The CM cited the example of how Entertainment tax collection improved drastically through the use of e-governance and that encouraged the officers to make more use of technology. He stressed upon the role of e-governance in bringing transparency. He cited the example of two check posts, one in Gujarat, the other in Maharashtra, which are one km apart, and thus, every vehicle crossing Gujarat – Maharashtra border there passes through both, and even though both check posts had equal toll rates, owing to electronic connectivity, the check post in Gujarat collected 400 Crore more tax as compared to the check post in Maharashtra.
Modi recollected how the database of all cell phone numbers helped the Government send text messages to villagers in Gujarati to intimate them of the flood thereby saving lives of not only people, but ensuring that not a single animal die due to floods. He also cited how the database of vehicles prevented people from being duped into buying stolen second hand vehicles. Modi also cited the example of Emergency Response System of Gujarat which was rated better than those in US and European Nation.
Modi highlighted Gujarat's 'Swagat' program, the UN award winning Grievance redressal system of Gujarat, which has enabled the downtrodden common main to reach directly to the CM. Modi told the listeners that over 2 lakh complaints were received in 2010, out of which over 1.85 lakh were found correct and positively resolved. This has empowered the common man to stand to the local authorities and get their problems resolved.
Next, Modi talked about the E-oorja program of Gujarat. He mentioned how online monitoring led to improve the load efficiency of decades old power stations of Gujarat from 60% to 85% with absolutely no change in production technology. Modi also recollected how paying Electricity bills was a problem for many villages as not every village had post-offices where bills could be paid. Gujarat's villages have been enabled to pay electricity bills online. Noteworthy is that every village of Gujarat is already under broadband reach. Modi also said that all the 18,000-odd villages in the state is connected with three-phase electricity supply for 24-hour under Jyotigram Yojna, with separate lines for agricultural and domestic consumption. 2 days ago, Gujarat also had got the honour of having Asia's largest Solar Power Station.
The Chief Minister said that pilot projects have already been started in developing 19 different technical modules for improving all round efficiency in the cost of producing and revenue, checking theft in different sources of energy, with the synergy between research and technology. The results would be announced in the coming months as and when each becomes a success.
The proud Chief Minister highlighted the fact that the Government of India has asked all states to study and emulate Gujarat's Public Distribution System and how use of e-governance in that has removed the scope of corruption from this system, which is otherwise known as the den of corruption.
Another interesting fact that Modi highlighted was the facility to enquire about the court-hearing date just by sending an SMS resulting in huge time savings. He also spoke about the digitization of libraries that Gujarat has undertaken which will connect all libraries in towns of Gujarat thereby exposing Gujaratis living in humble towns to the grand pool of knowledge.
Modi ended his speech by making mentions of 'Apple', how it synonymized with the evolution of technology from Newton to Steve Jobs.
Prominent speakers in the conference included Central Government IT and Telecom Secretary Mr. Chandrashekhar, Gujarat's Chief Secretary Mr. A.K. Joti, CSI chief Mr. M.D. Agrawal, GTU V-C Prof. Akshay Agrawal and Additional Chief Secretary (S&T) Mr. Ravi Saxena.
Share Your View via Facebook
top trend
what next
IBTL Gallery