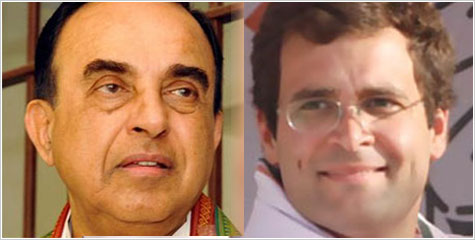 Crusader against corruption Dr. Subramanian Swamy has reaffirmed that Rahul Gandhi is not legally eligible to become the Prime Minister of India. Dr. Swamy had in the past said that Sonia Gandhi was not eligible to become the Prime Minister due to the Reciprocity clause of Indian Constitution which applies the same restriction on Italian-born people who acquire Indian citizenship by registration which will apply to an Indian who acquires Italian citizenship, and since the Italian constitution doesn't allow foreign-born people to take up the top job, the same will apply to Sonia Gandhi, as per Dr. Swamy.

Swamy had in the past argued that Rahul Gandhi too had Italian citizenship at the time of his birth (by virtue of his mother being an Italian at the time of his birth, as Sonia Gandhi acquired Indian Citizenship as late as in 1983, 15 years after her wedding).

Dr. Swamy further said that there are a few more things about him, which are about to come out and that he cannot divulge them as of then because his investigations are not yet over.

Swamy also stressed that he doesn't see the Jan Lokpal Bill getting passed under Congress rule. Dr. Swamy was addressing an anti-corruption seminar at Bangalore, when he made these remarks.
Share Your View via Facebook
top trend
what next
IBTL Gallery