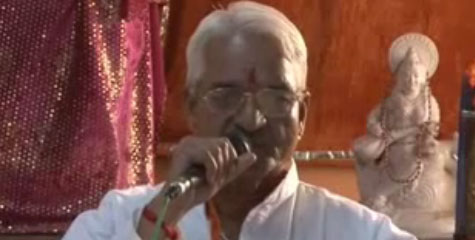 Vishwa Hindu Parishad(VHP)'s Dharma prasar wing's all India convention is being held at Pirana Prerna pith near Ahmedabad. Around 250 saints, 300 women coordinators and 3,000 workers will attend this meet.

Shri, Ashok Singhal, international president of VHO, Pravin Togadia, international general secretary, RSS leader Shri Bhaiyaji Joshi etc will remain present in this meet.

A pledge to work against religious conversion will be taken in this convention.
VHP release says, it is anticipated that according to 2011 census, Hindus will less than 80% population of India. According to 2001 census there are 2.3 percent or 2 crore 40 lakh Christians in India.

It further says, as per the 2001 census, Mizoram has highest 90.5% Christians, Nagaland 90.5%, Meghalay 70.3%, Manipur 34%, Goa 26%, Andaman Nikobar 21.7%, Kerala 19%, Arunachal Pradesh 18.7%, Pondicherry 4.05%, Assam 3.7%, Tripura 3.2%, Orissa 2.4%, Karnataka 2%, Andhra Pradesh 1.51%, Maharashtra 1.79% Christian population. However VHP claims that leaving Assam and Tripura, all north eastern states have more than 38.96% Christians.

According to VHP press release in 2030 India's Muslim population will be 16% or 23 crore 61 lakh 82,000 as per an estimate of Peace forum on religion and public life. According to an estimate in 2010 Indian Muslims form 14.6% of total population or 17 crore 72 lakh 86,000.

VHP release further says, during 1991-2001 Hindu population growth rate was 20.3% while it was 36% in the case of Muslims. VHP claims that government had played game by manipulating this figure later on. Uttar Pradesh has 45% muslim population of India. Jammu and Kashmir is Muslim majority state. In Kashmir valley there are more than 95% Muslims.

According to VHP press release, The highest Muslim population growth rate in India is in Delhi which is 51.45%. The state has 9.44% Muslims. Assam has 41.62% growth rate in Muslim population while population of Muslims is 28.43%. Rajasthan has 41.46% growth rate and 8.01% population of Muslims. Uttar Pradesh 36.54% growth and 19% Muslims. West Bengal has 29.50% growth rate in Muslim population and 23.61% Muslims. Bihar has 29.50% growth and 14.81% Muslims. Maharashtra has 31.40% growth and 9.67% Muslims. Kerala has 25.49% growth and 23.33% Muslims. Andhra Pradesh has 25.71% growth in Muslim population and 8.91% Muslims. Karnatak has 25.71% growth rate and 11.54% Muslims. Jammu and Kashmir has 30% growth rate and 64.18% population is Muslim. Gujarat has 24.05% population growth in Muslims and 9% Muslims population. Madhya Pradesh has 31.21% growth and 4.96% Muslim population. Tamilnadu has 21.14% growth and 5.47% Muslims. Lakshadweep has 90% Muslims.

According to VHP release, religious conversion is responsible for problems like terrorism, maoism, and anti-national activities.

During 5-6-7 November convention at Pirana a strategy will be discussed to bring those 99% converted Hindus back to Hindu roots.

deshgujarat
Share Your View via Facebook
top trend
what next
IBTL Gallery