Hindus robbed of right to live with dignity on Bakrid in Shivaji's Maharashtra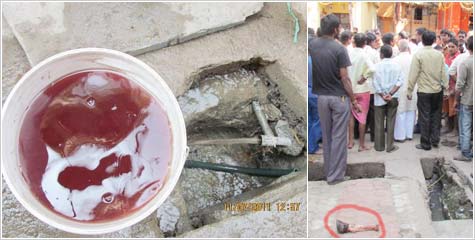 Recent festival of Bakrid has placed a big question mark on the right of Hindus to live with dignity, right at the place which was once considered at helm of Hindu dignity, from where Shivaji hailed, the fort of Bal Thakare, Maharashtra!

Two incidents, one in Kolhapur, the other in Nanded, a place situated on the bank of holy Godawari river, and held sacred by Hindus and Sikhs both, have exposed how India is under seige to Islamic appeasement policies of Congress led governments.

In Kolhapur, right for Bakrid, a slaughter house was inaugurated by no less than the Chief Minister of Maharashtra, Prithviraj Chavhan. This slaughter house was shut down for past one year, but as Bakrid came, the CM himself inaugurated it. Many pro-Hindu organizations condemned this act and protested. Mr. Banda Salokhe, the Chief of Bajarang Dal for Western Maharashtra has condemned the act and has made an appeal to people to be vigilant and prevent such things. Several Hindu organizations such as Hindu Ekta and Hindu Janjagriti Samiti have also protested against this. The devout Hindus have submitted a representation to Lakshmipuri police station. It is important to note that since Independence, the population of cows/ cattle has come down from 80 crores to 11 crores. Out of 70 breeds of cows that India had, 40 have now become completely extinct owing to the persistent cow slaughter in the land of a billion Hindus. On an average, 50000 cows are slaughtered daily in India. India is the 3rd largest exporter of beef in the world, a fact no less than a slap on a billion Hindu sentiments.

In another, even more painful incident, the residents of Nanded, particularly those in the Gadipura area, were aghast to receive water supply mixed with blood and smelling of blood and flesh. The water supplied in tap was red till afternoon. Muslims carried beef in presence of Hindus. The day was an auspicious day for Hindus being the end of 'Chaturmaas' and beginning of 'Tulasi-vivah'. Many Hindus have special 'Kartik' bath on this day; but since the water supplied till 2.00 p.m. had blood, they could not have such bath nor could they use it for cooking; for breaking fast of 'Ekadashi'.Supply of water mixed with blood enraged Hindus and they took to the roads. Mr. Deepak Ravat, a municipal councillor of Shiv Sena called up concerned officers from Municipal Corporation and informed them about the matter; but he was told that since it was a holiday due to Id, nobody was available in the office.

In bewilderment, the Hindus had gathered on the roads. In the meanwhile, a piece of cow's leg was thrown near the Sri Kshatriya Ganesha Mandir. Enraged, the gathered Hindus marched towards the temple but they were dispersed by the police.

The incidents, perhaps only a couple of uncountable others, that took place in the different parts of India, indeed put a question mark on the right of Hindus to live with dignity in their own homeland, but also give the Hindu society, the uneducated of which are in deep slumber with regard to the danger at hand, and the educated ones of whom are administered an overdose of skewed secularism, a chance to analyse what future do they have a few decades from now.

It is worth noting that out of the 14 compulsory holidays notified by the Government of India, there are only 2 Hindu festivals, Dussehra and Diwali while there are 4 Muslim festivals (Muharram, Id-e-Milad, Eid-ul-Fitr, Eid-ul-Adaha/Bakrid), 2 Christian festivals (Christmas, Good Friday), 1 Sikh festival (Guru Nanak Birthday), 1 Buddhist (Budha Poornima), 1 Jain (Mahavir Jayanti) and 3 National festivals (Republic day, Independence day, Gandhi Jayanti). Hindu festivals like Holi, Janmashtami, Ram Navmi, Mahashivratri, Ganesh Chturthi, Basant Panchami are all optional, while other Hindu festivals like Rakshabandhan, Karwa Chauth, Teej are mostly not declared holidays, until otherwise noted by States.


Share Your View via Facebook
top trend
what next
IBTL Gallery