No end to BJP troubles in Karnataka, Yeddi sets Jan 15th Deadline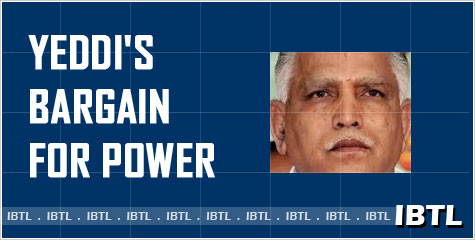 There is no end in sight to BJP's troubles in Karnataka as former CM B S Yeddiyurappa has virtually set January 15th as the deadline for the leadership to accommodate him in a suitable position. This has come amid media reports that he might potentially split the BJP. Yeddi is believed to be in command of the support of a vast majority of MLAs. BJP enjoys a thin majority in the house and any such move will lead to the fall of the government.

Yeddiyurappa had won the state for BJP. It was the first time when BJP came to power on its own in a South Indian state. But, his tenure remained muddled with the interference of powerful Reddy brothers and he had to resign in August 2011 following corruption charges levelled against him and several other non-BJP former Chief Ministers and virtually all powerful politicians of the state, in a Lokayukta report. Since then, Yeddi has been lobbying for a suitable position.

A delegation of BJP MLAs met him and urged not to take a hasty decision but Yeddi could nto be persuaded apparently. Yeddi said that he might visit Delhi during the second week of January. "Let me see what will happen. I will wait till January 15," he said. He however, ruled out the prospect of a mid-term poll in the state and assured that the government will complete its term, ending next year.

Yedyurappa's loyalists have been insisting that either the party re-instate him as chief minister or make him the state party chief. Sadanand Gowda, the new CM of the state, has said that he'll continue to be CM till the next assembly elections. Yeddyurappa has also accused State BJP Chief Eshwarappa of trying to oust him from the party .
Share Your View via Facebook
top trend
what next
IBTL Gallery