Dr. Subramanian Swamy challenges Digvijay Singh in his statement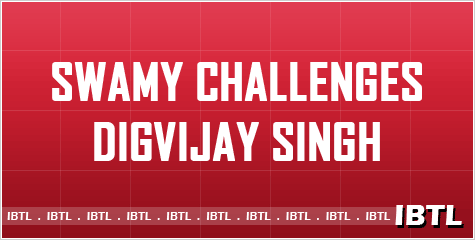 It is surprising that the Congress General Secretary Mr. Digvijay Singh has held his own Party's choice for the Union Home Minister, namely, Mr. P. Chidambaram, responsible for denying a probe into the Batla House encounter. Mr. Digvijay Singh, however, has been silent all these years on the genocide of Muslim youths in Hashimpura, (Meerut district) during May, 1987 when the Provincial Armed Constabulary of U.P. deliberately selected 40 Muslim youths of the Hashimpura area at around midnight, and trucked them to a canal called Gang Nehar near Moradnagar, and then shot each of them individually and threw their bodies into the canal.

At that time the Union Minister of State for Home affairs, Mr. Chidambaram, a day before the genocide action had aerially surveyed the area with the then U.P. Chief Minister Mr. Veer Bahadur Singh. When I demanded an inquiry, it was refused to hide that it was a State sponsored genocide. Thereafter, in August 1987, I went on an indefinite fast at the Boat Club, which lasted seven days, before the then Prime Minister (and my good friend Rajiv Gandhi) acceded to my demand for inquiry.

I challenge Mr. Digvijay Singh to similarly sit on a fast unto death, for holding of a Commission of Inquiry, to find out the facts into the Batla House incident. Today, the people want action, not words for the press in such issues of human rights. Time has arrived for Mr. Digvijay Singh to prove his bonafides. We have had enough of his speeches. As an office bearer of a ruling party, he has no moral right just to emit hot air on such sensitive issues.
- - - - - - - - - - - - - - - - - - - - - - - - - - - - - - - - - - - - - - - - - - - - - - - - - - - - - - - -

Hashimpura massacre Failure of all organs of state

Mr Subramaniam Swamy, who went on fast unto death over the incident, characterized it as a clear case of genocide. Mr Chandra Shekhar made the observation that "the Hashimpura (Meerut) tragedy was the most shocking incident in my political life…

In the name of 'operation search' the most brazen killing against Muslims in Independent India was performed by State's armed constabulary—the PAC, which was characterized by the Amnesty International in its report on Meerut, 1987, as a Hindu paramilitary force in numerical terms (only about 2% of the PAC being Muslims) as well as in terms of attitudes. Subramaniam Swamy undertook fast unto death against the crime of genocide in Hashimpura.

Content Source : Swamy's Blog | pucl.org
Share Your View via Facebook
top trend
what next
IBTL Gallery