Is this the end of Anjem Choudary's Shariah4Hind dream?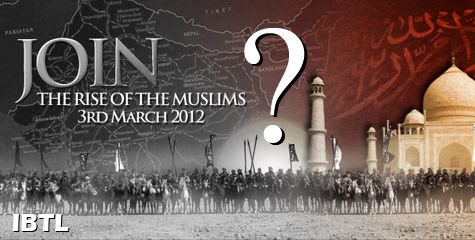 Last month Feb 12, 2012 IBTL Published Anjem Choudary's Shariah4Hind dream, the website proclaims that as per Quran, non-Muslims are not supposed to rule over Muslims and Islam doesn't permit secularism. The site calls for resurrecting the lost glory of Islam in Indian subcontinent and calls for establishing Islamic rule.

On 22nd Feb 2012, Tajinder Pal Singh Bagga, President of Bhagat Singh Kranti Sena filed a petition in Delhi High Court through Advocate Mr. Vikas Padora seeking a ban on website www.shariah4hind.com for allegedly propagating communalism & calling for a rally in Delhi on March 3rd with propaganda of converting India into an Islamic state.

In response of PIL Delhi Police registered FIR against Anjem Choudary, Omar Mohhamad Bakri, Abu Baraa and shariah4hind team under sections 124A (sedition), 153A (Communal crime),295A(Communal crime) IPC & 66A IT Act on 28th Feb late night & issued arrest warrant against them. Fearing the arrest, The contractor of Shariah in world Anjem Choudary cancelled the Shariah rally which was to be held on 3rd March.

Bhagat Singh kranti Sena express gratitude to Delhi High Court and Delhi Police for their contribution in favor of nation against communal forces. And special thanx to Dr. Subramanian Swamy for guiding us throughout the process. The efforts of our Advocate Mr. Vikas Padora is Also highly appreciable. Bhagat Singh Kranti Sena's President Mr. Tajinder Pal Singh Bagga devoted this victory to the youth of the nation.

Tajinder Pal Singh Bagga said - " This is the victory of nationalists on anti national forces, this victory is dedicated to youth of the nation and glory & heritage of our nation, BSKS will continue working in favor of nation, we will never ever let anyone disgrace our tricolour and national integrity " Anjem Choudary had organised such rallies successfully in different parts of the world earlier such as in UK,France etc but India has once again proved herself strongest against such anti-nationals.

To all the anti-nationals and terrorist outfits like Anjem Choudary the message of BSKS is - "Yunan-o-Misr-o-Roma Sab Mit Gaye Jahan Se, Ab Tak Magar Hai Baki Naam-oNishan Hamara, Kuchh Baat Hai Ke Hasti Mit'ti Nahin Hamari, Sadiyon Raha Hai Dushman Daur-e-Zaman Hamara"

Meanwhile, the hypocrisy of Anjem Choudary once again came to light as he issued a press release that says "In order to ensure the safety of all those who have responded to our call we have therefore decided to delay the demonstration in Delhi this weekend.", the only sensible sentence amid his usual trash. This is when he has repeatedly claimed that he and Muslims do not obey "man-made laws", a claim defied by the fact that he applied for an Indian Visa (certainly not a God-made law) and cancelled the demonstration on a denial.

In one sentence, the prompt appeal by President Tajinder Pal Singh Bagga of Bhagat Singh Kranti Sena, and Advocate Vikas Padera, the guidance of Dr. Subramanian Swamy and prompt action of the Delhi High Court have together averted a possible menace to India. IBTL takes genuine pride in being the first to break this news as early as on Feb 12th, while the mainstream media, by and large, blacked it out.

In response of Bagga's tweet, "@swamy39 tomorrow hearing in High Court on our PIL against Anjem Choudary & Shariah 4 Hind. In our last hearing" Dr. Swamy replied, "@tajinderbagga Good luck. Swamy".

@tajinderbagga Good luck. Swamy

— Subramanian Swamy (@Swamy39) March 1, 2012
Share Your View via Facebook
top trend
what next
IBTL Gallery