Sadhvi Pragya and other Malegaon blast accused on SIMI's hit list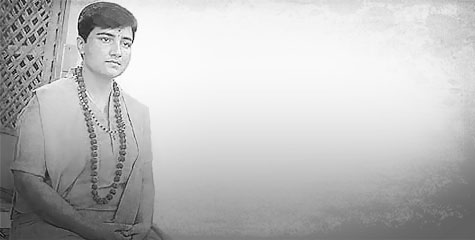 Sadhvi Pragya Thakur, Colonel Prasad Purohit, and Dayanand Pandey, the three accused of the Malegaon blast case, are reportedly on the hit list of banned terrorist organisation SIMI, (Students Islamic Movement of India, the same organisation which Congress General Secretary Rahul Gandhi had equated with Rashtriya Swayamsewak Sangh).

हिंदी : सिमी की हिट लिस्ट पर साध्वी प्रज्ञा एवं मालेगांव धमाकों के अन्य आरोपी

According to a news report published by the Hindustan Times, a government report based on intelligence inputs from central agencies and various state police forces, the SIMI activists are trying to use underworld contacts to execute their plan. A Hindu leader in Pune and a lawyer in Bhiwandi are also on their hit list. The three accused – Sadhvi Pragya, Colonel Purohit, and Dayanand Pandey, have been in judicial custody since they were arrested by the Mumbai ATS. The National Investigation Agency (NIA) is probing the case.

SIMI activists have earlier hatched plans to assassinate the three judges of the Allahabad high court, who pronounced the verdict in the Shri Ram janmbhoomi case in 2010 and also the Hindus accused of Gujarat riots.

The government report also reportedly says that SIMI regularly tries to establish links with terror outfits such as Lashkar-e-Taiba (LeT) and Jaish-e-Mohammad (JeM). A SIMI activist, identified as Mohammad Azazuddin, had visited Saudi Arabia in November 2010, followed by Bangladesh in February 2011, to meet a JeM operative called Wali Hassan based in Saudi Arabia.

IBTL Viewpoint:

1. This government report is not only a mirror to how SIMI's activities are on despite it being banned, and SIMI is an organisation of Indian muslim students, of those people who were born and brought up in India, but are still hell-bent on blasting their own nation away. Government must take strict action to dismantle all such active networks of homegrown Islamic terror but then government's priorities are to paint the terror into Saffron colour. As per a report published in the Organiser, Jihadis have been appointed into Police in Congress-Muslim-League ruled Kerala and have even become DSPs - perhaps another case of coalition compulsions.

2. It is also a curious case why SIMI wants to eliminate Malegaon blast's accused Hindus. If those Hindus were responsible for Malegaon blasts, how does SIMI benefit by eliminating them? Or, is it that SIMI is scared that some secrets of Malegaon blasts will come to haunt them if Sadhvi Pragya remains alive.
Share Your View via Facebook
top trend
what next
IBTL Gallery