BSKS paid homage to the brave martyrs on Kargil Vijay Diwas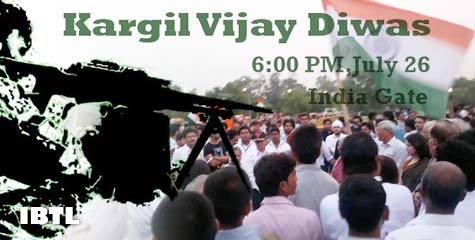 The nation commemorates the 13th anniversary of Kargil Victory on July 26th 2012. The nation salutes the supreme sacrifice of our valiant soldiers for their gallantry display of their courage in defending our borders and is indebted to them and their families.On the 13th anniversary of Kargil Victory Day, The Indian Ex-Servicemen Movement, Citizen 4 Forces, Bhagat Singh Kranti Sena, Azad Seva Dal, Youth 4 Punun Kashmir and The Rising Bihar have come together in paying a homage to the martyrs in a ceremony at India Gate.

The ceremony shall begin at evening 7:00 PM with recital of Vande Mataram. Thereafter those attending the ceremony, the families of Captain Vikram Batra, Captain Amit Verma, Lt. Sushil Khajuria, Captain Mohit Sharma, Lt. Vijayanta Thapar, Rifle Man Anusia, as well as our other esteemed guests General GD Bakshi, General PK Sehgal, General Satbir Singh, Prakash Singh (DG BSF), Ram Mohan (DG BSF), Advocate Meenakshi Lekhi,Alka Lamba (Go Limited Foundation) and advocate Rahul Mehra shall pay tribute to the martyrs and begin the ceremony.

Following this, those attending the ceremony shall leave their messages for our brave soldiers on a 200x4 feet banner made especially for the purpose and will then light up 20,000 candles in memory of those who sacrificed their lives in the Kargil War. The Families of the martyrs and our ex-service personnel shall then address the ceremony and share the stories of struggles in Kargil War and of lives of those who fought bravely in it.


Share Your View via Facebook
top trend
what next
IBTL Gallery