Alignment of the regional satraps into Third Front as BJP, Congress slip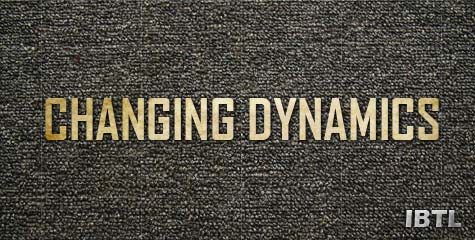 Narendra Modi first opened at Lucknow national executive of the BJP last June, the plank of federalism and discrimination of states by centre as potent tool to take on the arrogant congress whose dirty tricks department was hell bent on misusing every institution against non congress states and to unite various political parties on a much more cohesive platform than a plain anti-congressism.

This was followed up by Modi's close friend down south, Jayalalitha in her national development council speech where she alleged that centre was not treateing the states as equal partners and had reduced the states as glorified municipal corporations.

The thread had slowly picked up. The next drama that saw the expansion of federalism plank across parties was the mid night murder of democracy by congress during the lok pal bill debate in Rajya sabha. Upa partner Mamta revolted in the name of federalism and states rights.

The elections were approaching and the state with maximum possibility of sending non congress non bjp parliamentarians was going to poll. While media decibels grew around the campaign of congress projecting an extraordinary revival led by rahul gandhi, the shrewd regional party bosses were watching it keenly for any trends of revival.

Even as election process was on, a shrewd Chandrababu Naidu revived the almost dead political relevance and media relevance of Arun Nehru. Soon the regional parties came together and protested on NCTC, this time led by Navin patnaik who for long had remained silent even at the height of Posco agitation or the avatar moment of the Delhi Sipahi. Behind the scenes guided by Naidu, arun nehru was working with Nitish, Maya, Mulayam, Mamta, Navin . The old fox Pawar too was not far behind having a meet with Arun nehru

One mustnt forget Naidu's closeness with Jaya and his campaigning in TN election meet at coimbatore with talk in air of Naidu dialing Jaya to keep her in loop about fast paced developments. All leaders were said to be in direct contact working out the agenda for ensuing parliament session.

While Modi had provided an excellent plank for expansion of NDA and common ground, the central BJP leadership responsible for taking it forward was slowly being outfoxed by the regional parties as they sensed the weakness of BJP. This was amplified when results came on march 6th.

While key delhi based bjp leaders are hallucinating of NDA plus without deriving right lessons from elections, its allies are making smart moves. The Badal now less dependent on BJP thanks to the fact that BJP lost seats while they gained and with help of independent had majority on their own and with their strategy of fielding Hindu candidates proving highly successful with all of them being returned, the relevance of BJp for akalis for Hindu votes is at reduced level.

This has empowered the Badal to join the game by inviting Mamta and Jaya. Badal's are reported to have gone out of way by offering to ferry mamta by sending a special aircraft. The Badals have also included the joker card – Abdullahs. That Mamata and the Abdullahs, the secular torchbearers are unmindful of the presence of Modi show the significance attached to the symbolical message to be sent to BJp and cong. Mulayam too now has openly joined the game and invited not only Mamata but also Jayalalitha.

Jayalalitha by deputing two mps to attend both functions has kept her options open and not openly bit the bullet. That said one cannot discount the possibility of guidance from bjp leadership looking for early poll to get the badals to invite Mamata as we have seen the insipid Jan Chetna yatra failing to take up the vociferous corruption campaign of state BJP leadership against Navin making them a butt of ridicule. But there is every possibility of game going out of hands if BJP shows any signs of weakness.

There have also been two key events at expanding the base of this regional formations. These shrewd bosses are aware that more national parties sink, the more power to their negotiation board room to force the BJP especially to support it post the next general polls. This was behind the talked about attempts by JD(u) in splitting Karnataka BJP by encouraging Yeddyurappa to split away. The significance of word political upheaval in Jay Pandas tweet on the quashing of Fir by Karnataka high court against Yeddy must not be lost.

Does this mean more or less political upheaval in Karnataka!? "@ndtv: Just In: High Court quashes case against Yeddyurappa in mining scam"

— Baijayant Jay Panda (@Panda_Jay) March 7, 2012

The bypolls in AP in the telengana region is significant one and can be the next accelerator to the fast changing scenario. If Naidu sees a revival, he will smell blood and make a push. It is another factor that Kishen reddy had led a rousing Tenlenga Poru yatra with sole aim of energizing the party before bypolls. It was a roaring success, with local media reporting the increase in BJP power. BJP had with a very convincing reason announced contesting all seats. A twist in the end, which can only be explained by delhi leadership suddenly saw BJP announce contesting only 1 seat with an unconvincing reason. The jubilant Kishen reddy post this has stopped his twitter participation.

The BJP must not forget the ability of pawar to spring a surprise by forging a regional coalition with sena and mns leaving the BJP and congress in lurch. This move from pawar cannot be ruled out. Nitish too has started making his moves by not even refering to the BJP by name. The Badals too have shown they are not averse to the game.

The first testing ground for this group will be the ensuing presidential election where BJP may be forced to support the choice of this group. The reason seems simple, the delhi BJP seems more focussed on scoring this petty point over the congress. A success here would mean this group may go for the kill soon as almost all members including Mamata, jaya, Nitish, badals,mulayam and navin fresh from the demolition of cong in municipal polls would want polls advanced to reap maximum benefits.

The BJP though strangely seems inclined for early poll when its preparedness leaves much to be desired. As things stand even a peaking performance in states like gujarat,mp,rajasthan and decent performance in karnataka andmaha would leave the BJP with at he maximum 150 seats. This is too tough a proposition and may end up around 130 unless something drastic happens in UP in the LS polls. The NDA is as good as nothing if BJP is less than 150. When the cong and BJp together land up in the 240-260 category the game is wide open.

While right wing intellegentsia is gung ho of nda plus, fourth front seems to be taking a nice imminent shape.

(This was written when Mamata Banerjee had accepted the invitation for Badal's swearing-in, which she later didn't attend.)

Author : NR Vithobha | Follow the writer on twitter.com/NR_Tatvamasi
- - - - - - - - - - - - - - - - - - - - - - - - - - - - - - - - - - - - - - - - - - - - - - - - - - - - - -
Disclaimer: The author is a commentator on issues of national interest. These are his personal views and do not necessarily reflect IBTL's opinion.
Share Your View via Facebook
top trend
what next
IBTL Gallery