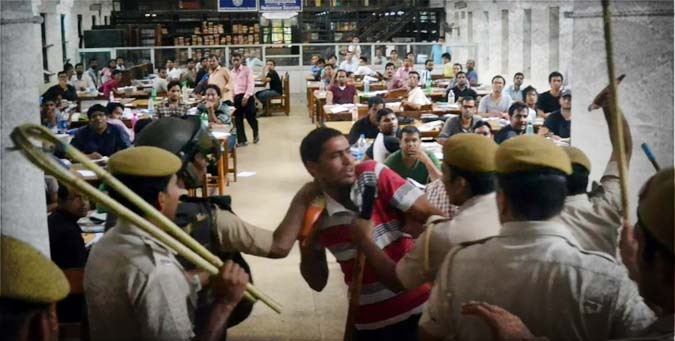 The Indian democracy is hailed as the largest & brightest in the whole world. Student politics is the first step of any successful democratic system. I strongly believe that if Indian Democracy would have been a person, Congress & NSUI would have been charged with Criminal conspiracy & murder for what they did on saturday in DUSU Elections. No one could have even thought that NSUI will resort to such ugly and unethical practices after seeing that they were bound to loose the elections third time in a row.

हिंदी में पढ़ें : डूसू चुनावों में कांग्रेस ने की है लोकतंत्र की हत्या...
These elections were happening in such times when the whole country and specially the youth was seeing the real face of Congress. The youth this time seemed resolved to teach them a lesson for what these people have done by all these scams. I think this only was the reason which made congress do manipulations to ensure its win by hook or by crook. In whole 10 days of campaigning, and moreover after results of college panels, it was almost clear that NSUI was bound to loose these elections. ABVP candidates got tremendous response in whichever colleges, they went for campaigning.




Finally, the counting day came. I was the part of the ABVP panel inside the counting centre. First time in DUSU history, counting was done in a new place. When we entered the centre, we were amazed to see that the seal of voting machines was already open to which we objected strongly. The officials told us that the machines were opened moments prior to our entry, we didn't reacted nuch although it was against provisions to open seals this way. We were amazed to see that there was an abnormal distance between machines & candidates because of which we were not able to see the count. from then for the next 3 hours or so, whenever we asked about results, we were told thatb we were winning by huge margins. Last time when we enquired about results, we were told that Ankit & Vishu were leading with around 4000 & 2400 votes on their respective seats.

As a matter of rules, phones are not allowed inside counting centre but irrespective of our objections, Chief Election Officer S C Dubey was continously talking over phone to some people. At around 12:15 PM, we were sent for lunch by officials even after repeated denials from our side. When we came back after half an hour, to our utter surprise, NSUI Candidate Arun was declared won on President post by a margin of 5600 votes! It was a moment of shock for us all. When we went outside, we were told by officials that we have already got decisive leads and only 4 machines were left to be counted out of more than 200. It is an mazing thing that those four machines covered Ankit's lead of 4000 votes as well as created a lead of 5600 for Arun!

Our activists, supporters & friends who were standing in open since morning went out of control after listening to this misappropriation by DU officials in collaboration with NSUI. They started raising slogans and protesting outside counting centre, This was the time when police started an unprovoked lathicharge on ABVP activists. Our all 3 male canddates along with the DUSU office bearers of last year were brutally hit. Ankit has got multiple fractures in leg and on his chest. Vishu Basoya, who is a patient of respiratory problem has got major injuries and was in ICU till sunday night. Also, Ex DUSU VP Vikas & Ex Joint Sec Deepak have got major injuries. I and many of my fellow ABVP activists are witness of this brutal police action.

It is both shocking as well as painful that electronic and mainstream media was showing pictures of those who won by rigging elections but didn't got enough time to show the brutalities faced by ABVP karyakartas. We demand that these elections should be immediately cancelled and new elections should be conducted. Also we demansd that there should be an independent enquiry into this issue and those who are culprit of this murder of democracy should be brought to books immediately. It is our resolve that we will not sit till we re-establish the lost glory of DUSU Elections. Vande Mataram !!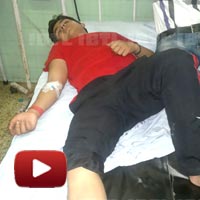 Share Your View via Facebook
top trend
what next
IBTL Gallery