Ishrat Jahan: Adulation of a Fidayeen to Ballot Poster Girl?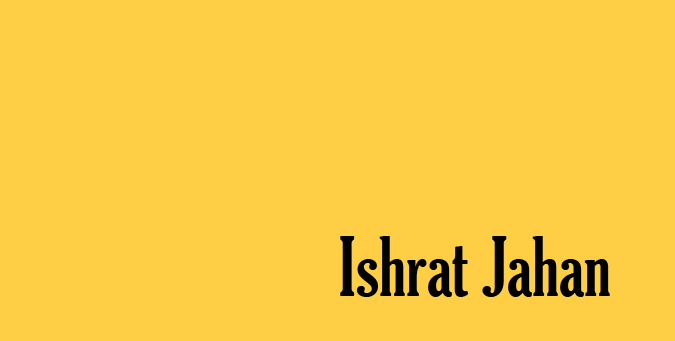 One common name doing the rounds in almost all national dailies, television channels and social media alike is that of a young woman shot down almost nine years back. The name is Ishrat Jahan . Nine years after Ishrat Jahan along with three more men were shot dead by the state police of Gujarat, India's premier investigative agency, CBI , declared the killing as 'fake encounter". The case was handed over to the CBI by the Gujarat High Court in 2011.
It would be interesting to understand the media hype surrounding this case and also who Ishrat Jahan was besides the implications of such relentless coverage. Let us analyze the background of Ishrat along with the other three persons killed in this 'encounter'.
Ishrat Jahan Shamim Raza
Ishrat Jahan (1985 – 15 June 2004) was a second year Bachelor of Science student at Mumbai's Guru Nanak Khalsa College.She was the second of 7 siblings. Her lower middle class family, hailing from Bihar, lived in the Rashid compound in the Muslim-dominated area of Mumbra in Thane district in Mumbai. Having lost her father Shamim two years prior to her own death, Ishrat took tuition and took to embroidery to support her family. Ishrat's father Mohammad Shamim Raza was the proprietor of a Mumbai-based construction company called Asian Constructions while mother Shamima worked for a long time at a medicine packaging company in Vashi.
Ishrat used to work as a secretary to Javed Sheikh (Pranesh), and used to handle his accounts. Javed used to take her out of town at times on work. Her mother was always kept abreast of such visits outside the city.
Pranesh Pillai (alias Javed Gulam Sheikh)
Pranesh Pillai alias Javed Gulam Sheikh was the son of Gopinatha Pillai, a native of Noornad in Kerala. He was married to Sajida and father to three children.
Pranesh had migrated to Mumbai in search of a job. Before his death, he had been booked for four assault cases in Mumbai and Pune, and had also been charged with involvement in a fake currency racket. In the mid-1990s, he converted to Islam and changed his name to Javed Sheikh to marry a Muslim woman called Sajida. Gujarat Police recovered two passports from Javed: one obtained using his original name Pranesh and the second one in his new name.
Ishrat's family first met Javed Sheikh just two months prior to her death. He had taken Ishrat to Nasik, Bangalore and Lucknow. In one such trip Ishrat is believed to have met Amjad.
Amjad Ali Rana
Amjad Ali Rana, also known as Akbar or Salim, was alleged to be an LeT terrorist from Haveli Diwan, Pakistan. He was reportedly found dead with an AK-56 rifle near his body. Amjad is believed to have met Javed several times in Oman. He is also believed to have met Javed and Ishrat in Ibrahimpur once. Amjad introduced Ishrat and Javed to Zeeshan, the fourth victim.
Zeeshan Johar
Zeeshan (alias Jisan Johar alias Abdul Ghani Son of Kalu alias Janbaaz), along with Amjad, is said to have been caught in a trespassing case in Srinagar in 2003.
Nobody claimed the bodies of Amjad and Zeeshan after the encounter. An identity card with a Pakistan address was reportedly recovered from Zeeshan's body. However, a later report by the metropolitan magistrate SP Tamang stated that identity cards were forged by the police and the two men were Indian citizens, although no evidence on this was produced.
The accomplices of Ishrat Jahan killed during the encounter were accused of earlier crimes, and some of them on serious charges. Merely looking at the track road one could assume that Ishrat was probably used by one of them, or all. Ishrat herself did not have a criminal record and this would only lend some credence to the claim of her innocence. However, Ishrat was anything but innocent if we go by the statements of IB, FBI and Home Ministry. Home Ministry filed an affidavit to the court in 2007 declaring her links with LeT. FBI told Indian government about her terror link in 2009. Even LeT terrorist, David Coleman Headley, admitted to the FBI that Ishrat Jahan was a LeT suicide bomber. In June 2013, the Intelligence Bureau chief Asif Ibrahim told the office of Prime Minister and Home Minister of India that the Bureau had enough evidence to prove that Ishrat was a part of an LeT module which planned to kill Narendra Modi and Lal Krishna Advani.
If we compare the alleged fake encounters cases between 2002 and 2007, we realise that there were only 4 alleged cases of fake encounter in Gujarat compared to 440 cases across India. This is not to justify even one fake encounter case in any circumstances but to highlight the politicisation of a fake encounter in the cynosure state of Indian Mainstream Media.
According to the NHRC of India, statewise the most ones were registered in the states of Uttar Pradesh (231), Rajasthan (33), Maharashtra (31), Delhi (26), Andhra Pradesh (22) and Uttaranchal (19)
From 2008-09 to June 2011, NHRC recorded 369 cases of alleged fake encounters. The states with high number of cases were Uttar Pradesh (111), Manipur (60), West Bengal (23), Tamil Nadu (15) and Madhya Pradesh (15)
But going by the media coverage it would appear as if the only state that witnessed alleged fake encounter was Gujarat. Is there any other individual name that comes to our minds if the word 'fake enocunter' is used, barring 'Ishrat Jahan'? Such is the intent and intention of Indian media. They would like to make 'fake encounter' synonymous to Gujarat. The trials and tribulations of Indian media are unlikely to end on this particular case. And the intent seems obvious.
It is not only Indian media but also a bunch of human right activists who seem to point fingers at the state Home Minister and Chief Minister of Gujarat. It is not mere innuendos but trying to politicise and malign the high profile leaders of Gujarat. It was known to all that Gujarat Police worked along with IB on this matter in a coordinated and concerted manner. If there are fingers pointed at the state home minister, why isn't a finger pointed at the central Home Minister? The UPA was at the centre when the said encounter took place and the IB comes under the Home Minister directly. Why is there a different state of rules for the state machinery and a totally different for the central government?
Encounter killings isn't an alien subject in the recent times. Encounter specialist Pradeep Sharma was made part of a special squad formed to deal with rising menace of extortion and killings by the Mumbai underworld. Pradeep Sharma alone is credited with 112 encounters and was this week acquitted of all charges. The Sub Inspector from Tarn Taran had eliminated 83 people in encounters, several of which were planned set-ups done on the orders of his superiors. By his own admission, he was promoted on a fast track.
Coming back to the Ishrat Jahan case, there are enough documents to make us believe that the alleged fake encounter victims were hired terrorists to eliminate the Gujarat Chief Minister and also Lal Krishna Advani.
The Indian media instead of reporting the case in a neutral and sensible manner appears to be trying too hard to influence people's minds. One journalist from NDTV went overboard to suggest that "Isharat Jahan came to do a Chota-Mota Blast and not to kill Narendra Modi" .
It would only be fair to ask the journalist what he implies by using the term "chhota-mota blast". Does he put a count to the number of dead bodiesIsn't each and every life to be protected from terrorists?
Why is there so much hype surrounding this case? Why is so much desperation to drag the names of the state home minister and chief minister in this encounter?
CBI could not drag the name of any state leader and also had to omit the name of IB special director in the chargesheet. The media however, unabatedly is trying to drag the leaders from Gujarat and most of them doesn't even shy away from terming it as a temporary relief to them.
The stakes are high this time with the elections looming around. The elevation of Narendra Modi in BJP makes the stake even higher. The opposition could not do any damage in the state elections when competing with Gujarat BJP on the development front. The lesson seems to be well learned and the focus has been well and truly shifted. And now the media seems to be playing a key role in keeping this case alive even though this can be taken as any other encounter in any other state.
What are the implications of creating hype over this alleged fake encounter?
1. It pitches the two premier government agencies, i.e CBI & IB, against each other. The encounter was a coordinated attack carried out by Gujarat Police and IB. In their endeavour to malign and target the Gujarat state, the investigating agency has to counter IB. And this is not good news to the premier government agency.
2. IB feels CBI's probe could hit counter-terror operations. In a strongly worded letter to the Home Secretary RK Singh registering his disapproval of the CBI's investigation against its officers, IB Chief Asif Ibrahim said it was "disastrous for the morale of IB officers". National security seems to be put at stake for political witch-hunts.
3. It has brought the human right activists out of their shells in an attempt to show solidarity with the family of Ishrat Jahan. Never before a solidarity event was conducted to show solidarity with a suspect terrorist. The human right industry seems to be alive and kicking with this new fresh lease of opportunity.
4. Political parties have latched on to this golden opportunity to underscore their secular credentials.
a) JD (U)was the first to declare Ishrat Jahan as the 'daughter of Bihar' hoping to gain political mileage out of this chargesheet. This is close on heels of the JD (U) walking away from the NDA alliance to oppose the elevation of Narendra Modi in the BJP.
b) NCP is quick to state "Ishrat was innocent but she was projected as a terrorist. Now, the incident is haunting Gujarat government." Strangely, NCP maintains a stoic silence on the acquittal of Pradeep Shama for his 112 encounter killings in Mumbai.
c) Not to be left behind the recently formed political party, Aam Aadmi Party, was quick to issue a statement "Ishrat Jahan encounter case show a shocking degree of ruthlessness, heartlessness and lawlessness on the part of Gujarat Police and indeed the Gujarat government. It establishes that the officers incharge of maintaining the rule of law meticulously conspired and planned cold blooded murders, and planned an elaborate cover up, even writing the FIR even before the encounter" It only underscores the political opportunity to score brownie points even before the jury is out.
5. The relentless coverage of Ishrat Jahan case and linking it with Gujarat leaders ensures that all the gargantuan scams of UPA are buried under the carpet. No channel talks about the removal of Pawal Bansal or Ashwini Kumar anymore. And those two are the recent cases of UPA misdemeanours. The previous scams such as 2G, CWG, Coalgate, Augusta, etc keeps getting pushed down the memory lane even further.
6. This also ensures that the ordinance on Food Security Bill, recenty passed and subsequently signed by the President, is no more a topic of discussion. Jet- Etihad deal probably will also get relegated and forgotten soon.
7. The misgovernance of Uttarakhand government on the Kedarnath tragedy is off the mainstream news. Had the government been of NDA, the media would have pursued the case in a more determined manner.
Authors : Demented Pundit and Dr Shweta Puri
Share Your View via Facebook
top trend
what next
IBTL Gallery