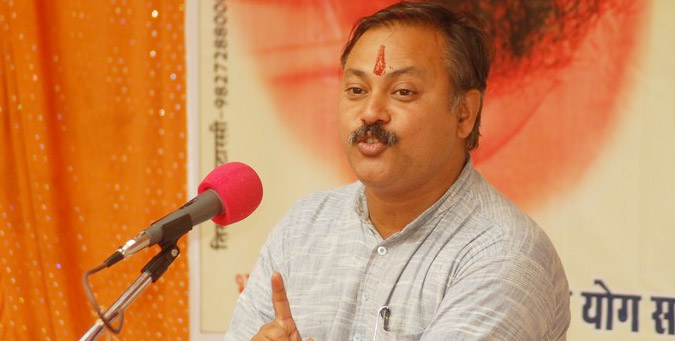 The Ominous evening of 29th Nov 2010 around 7:30 I got a call from someone saying Rajiv Bhai is unwell, and he has been admitted in the hospital. Those were the days when he was residing in Chattisgarh, and that evening he was to address a meeting of Bharat Swabhiman at Bhilai. As soon as I got the news I tried calling both his numbers and they were switched off. When I contacted all his friends I came to know that he had been admitted in the hospital. I immediately asked them that have they informed Swamiji about it and they replied that Swamiji has been informed about Rajiv bhai's\ situation. He is the one who is discussing with the doctors. If the situation worsens then the arrangements to take him to Delhi are on the way. I made ample of unsuccessful attempts to have a word with my brother. I didn't give a second thought and started from Raipur thinking that if possible we can get him treated at Sevagram.

हिंदी में पढ़ें : स्वदेशी के प्रखर वक्ता, राजीव भाई की स्मृतियाँ...
Around 9:30 driver stopped on the way for tea, at that same moment I got a call from Swamiji saying that He himself is taking care of Rajiv Bhai and the only issue is that he is not ready to take Allopathic medicines, and wishes to be treated by Ayurvedic or Homeopathic medicines only, and He is making all the possible efforts for his recovery, side by side he is in continuous with the doctors in Delhi, and that he would keep me informed.

After that the tea, driver started the car again, I kept on trying to any how to get in touch with Rajiv Bhai. Anoop Bhai informed me that I should reach as soon as possible, and that Rajiv Bhai's condition is very critical. I asked them to take him to Delhi immediately, but he said that Rajiv wouldn't be able to survive till Delhi. At this moment I suspected that people around him are not letting him talk to me or there is something very serious.

At quarter past twelve Swamiji again called me and told me to stop the car immediately and he was crying continuously and even I started crying with him. His sad and breaking voice from the side told me his grievance and he said," Rajiv Bhai is no more with us… we had so many plans now everything is over , now there is no more strength left in me." After controlling myself I made only one request to Swamiji that we have to fulfill his half liven dream at any cost. That dream he sought to accomplish through Bharat Swabhiman needs to be attended to. Swamiji asked me what has to be done next, I replied that as he was head of the Bharat Swabhiman let us perform his last rites at the Bharat Swabhiman's headquarter at Haridwar. And that you make the arrangements for the ceremony meanwhile I would get his body there. After that the call got disconnected, his voice also turned low. Even I was..... I was totally in a confused state, I didn't know what to do and everything seemed dark and gloomy, I even felt paralysed and couldn't move an inch.




Rajiv Bhai was not just my brother, but he also played the role of a mother and a father to me. Whenever I was with him, he took real care of me, in his company he use to make his presence felt. Now that he has taken leave, how do we move forward? He was our strength, courage, enthusiasm; he was the driving force behind us. Whenever spoke on the MNCs - related issues and challenges, a new hope was born every time. All throughout my way I have seen to that people are kept informed about the happening, and has asked people to leave for Haridwar immediately. Many had come to Haridwar with a heavy heart, to attend his last rites. He was a friend, a philosopher, a mentor and to some he was a guide, everybody shared some special relationship with him. I had asked them to spread this news to as many as possible.

I reached Bhilai at 4 am; with Anoop Bhai along I straightaway went to the hospital where Rajiv Bhai's body was kept. When I reached his body was still on the bed in ICU. He was on ventilator; his breath was off and was surviving only on artificial breath. His eyes were half open. His faced reminded me of the idol of Buddha in a blissful state of meditation lying down in meditative posture with eyes half open. I wonder what might have been his last thoughts, of whom he might have thought of before breathing his last, but it seemed he was in a peaceful state of mind. This indicated it was not a painful death. But the charm on his face was intact. The doctor then came to me and told me something, what I could get out of it was that Rajiv Bhai is no more, and only that the ventilator was On. I was then asked to turn off the ventilator, after that I closed eyes, touched his feet, the only question I had was "Why did you have to leave so early?"

There was a long way to go, a lot of aspiration to be met. The dream of making India free in a true sense was also not accomplished .Taking to common man the message of 'Be Indian – Buy Indian' to use Indian products to support our economy instead of promoting foreign brands and companies ' was also one of his primary goal. Even at the cost of his own life a brave soldier, will be firm in his position on battle field till his last breath whatever may be the situation, so did Rajiv Bhai who worked for the cause until a few hours before he was hospitalised.

It was around 5am and his body was in the Ice box till 9 am. On that day Swamiji's camp was at Shikohabad where he declared to the nation the news of Rajiv Bhai's death. Those who knew him or who attended his talks would find it difficult to digest the fact. Many had immediately started for Haridwar on getting to know that his last rites would be performed there.

His body was kept for visitors and public to see, thousands of his fans and other patriots turned up to bid him adieu. Many among the public were weeping vehemently, whereas I had no tears left and my eyes turned hard and dry. From there his body was taken to Raipur where it was kept for the public again, Raman Singh the chief minister of Chattisgarh had also come to see Rajiv Bhai's body and he expressed his condolences. Later at the was the last time the body was for public to see, thousands of Bharath Swabhiman activists and many others fans of him were awaiting to see him for the last as they knew that after this only his memories would be left behind. From there we left for Haridwar by a small aero plane.

The journey was about 3.5 hrs long. While high in sky and passing through the clouds I has a feeling that his soul might be somewhere around here with us, accompanying us. The flight was very small. It was a four seater with me in one seat and two other Chhattisgarh friends Rajiv Bhai's body was rolled in white cloth and kept in a wooden box. That journey had great influence on my life, all along the way the question of what to do next? How to do it? Were hovering in my mind. His goal was to make India free from influence of foreign culture and exploitation. He wanted to bring back its self-esteem, pride and self reliance and plan for its sustenance too. I wonder how I should I take this to people of this nation and how do I explain it to them.




His whole life flashed in front of me that moment. As a youngster aged around 20 he came to Allahabad aspiring to be an engineer, his parents wanted him to be an IAS. Though the purpose of his coming was education but he chose to fight against the poverty and unlawful exploitation. May be he the blood flowing in him was that of great revolutionaries, which got him onto this path. I all the ups and downs he face in his life flashed in front of me, even the scene of launch of Bharat Swabhiman was in front of my eyes. All of a sudden I got a shock and I came alive. I touched his feet and Took a pledge that I would fulfill his dreams. I would do it with the same enthusiasm and dedication with which he worked for the cause, and that I would dedicate my life for the same. After the pledge I had wiped my tears and collected some courage and assumed the responsibility of Bharat Swabhiman. I told to myself that I will not rest until I fulfill his dreams for the nation. Many people told me that someday Rajiv Bhai would himself come back to accomplish his goal, my reply to them was until he comes back I think we should sustain the moment. We obviously have blessing of Swamiji and to add it we have thousands of followers Rajiv Bhai who are ready to support us.

I reached Haridwar around 5'o clock, Acharya Balakrishna had already come to receive us. From the airport we directly headed to the Bharat Swabhiman headquarter where the rites were to be performed. There was huge crowd of people waiting to see Bhai's body for the last time. All around there were slogans Rajiv Bhai Amar rahe (long live Rajiv Bhai). That stage where he gave the talks along with Swamiji during the launch of Bharat Swabhiman was right in front of us. Those speeches had had inspired hundreds of volunteers who gave up everything in life and have dedicated themselves for the cause. Many volunteers there were still in a shock they didn't know what to do. His body was laid on Ice blocks, he was a man of fire may be this was to cool him I felt. By then My father and mother have arrived, they were not told about the happening. The moment my father saw me he asked me where your brother is. Where did you leave him? I had no words for him, what could I say that I got you here attend your son's cremation. I couldn't have told him that your son who took a vow to save mother India from exploitation of MNCs who was fighting to save its culture is no more. My mother was lamenting more so because it was his birthday that day. Swamiji has empathised everybody and he asked my mother to calm down telling that we are all like your sons, please do not worry. His friends from far off were also arriving there to see him. This happening took over the whole night.




Kankhal ghat was selected as place for cremation. Arrangements for his same were made there. Before laying his body on the pyre he was bathed and Bhai was dressed in Khadi and people were shouting the slogans of Vande Mataram. Swamiji's mother was also crying aloud. His body was carried on shoulders till the ghat.

I then urged Swamiji to leave his tradition as a sanyasi and to light Bhai's pyre as Swamiji was the one who insisted Bhai to come to Haridwar and to be his disciple.

Later I, Swamiji, and Acharyaji three of us together lit Bhai's pyre. After this his body turned into ashes.

Though he is physically not present wit us now, his teaching, knowledge and the courage he gave us stays with us for ever, and the responsibility of fulfilling his dreams now lies with us. While offering his ashes into the Ganges I thought that I will take his message to every nook and corner of this nation. Where ever Ganga would flow it would also carry his message to all those places and he would be born again on those banks. Rajiv bhai's homeland was on the banks of Ganga, and so shall it be forever. I salute to his dedication and commitment towards Swadeshi Bharat. Being inspired by that, we wish to move ahead towards our goal.

- Pradeep Dixit (Sevagram, Vardha)

Connect to Pradeep Dixit at: fb.com/pradeepdixitsbp
---------------------------------------------------------------------------------
Please take some of your valuable time to fill the form (Click here)

Enroll yourself and leave you contact below which would be added to the Directory of Fans of Rajiv Dixit, for further updates and correspondence.

English translation by Abhishek Jagini, twitter.com/AbhishekJagini

अन्य लेखों के लिए राजीव भारत खंड पढ़ें
Share Your View via Facebook
top trend
what next
IBTL Gallery