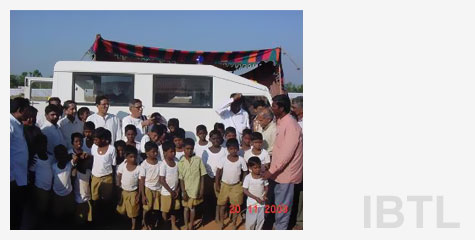 Chenchu tribals of Andhra Pradesh, who were deprived of basic facilities such as education, health, etc have now become self-reliant through the dedicated efforts of Sewa Bharati's Bhakta Kannappa Gurukulam. Along with the regular school curriculum, self-employment training is also provided to them to overcome the financial hurdles in the way of all-round development.

Bhakta Kannappa Gurukulam (BKG) was established at Sri Sailam in 1999, enrolling 20 boys from 8 Chenchu gudems. BKG is a hostel attached to primary school exclusively for Chenchu boys of Kurnool district. In the initial years of establishment, kitchen, dinning and accommodation for boys, staff and office was somehow managed in two asbestos roof sheds. At the end of the academic year 2001-02, one philanthropist donor Sri G Pulla Reddy, donated 3 acres of land for constructing the building costing about 18 lakh at Gokavaram Village. Gurukulam was then shifted to its new premises at Gokavaram in the year 2002.

In the academic year 2001-02, P Sivirama Krishna stood 7th in district-level common exams. In the sports meet of Saraswathi Shishu Mandhir group of schools, BKG Chenchu boys emerged victorious. Thus the success journey began.

All aspects of education viz. boarding, lodging, training, clothing, all other amenities including travelling expenditure are provided free of cost. Keeping in view the practical, peculiar, psychological problems, early marriages, children are preferably inducted at the age of four so that they get adjusted to the environment and sanskars of gurukulam, thereby avoiding some of the teenage problems.

Carpentry, electric work, long term courses and short term activities like book binding; motor rewinding, archery (Chenchu's traditional game) are introduced from class 4 onwards. More courses are also in the offing.

Chenchus mostly are illiterates. They depend on forest for their survival. They live aloof from the contemporary society. Their collection and sale of minor forest produce is not giving them a square meal, and they cannot meet even the minimum comforts and the small travel expenses. Their earning capacity needs to be increased. As an alternative, vocational courses are introduced in the gurukulam. At present, boys in class 5, 6 and 7 are in a position to manufacture wooden furniture and do house wiring, rewinding of small motors which can provide better earnings.

It is a regular phenomenon for Chenchus to go into the forest along with children, lay a temporary hut, stay there for about a fortnight and return with forest produce. In doing so, they deliberately neglect the education part of their children. Also, parents are compelled to take children to the forest, as there is no one at the gudem hut to take care of their children. Further, in view of early marriages, children get separated from their parents at an age of about 15 years, to lead an independent life.

Mobile dispensary: Chenchus do not volunteer by themselves to go to Primary Health Centres (PHC) for treatment unless circumstances compel them, till then they prefer to suffer silently and follow some native remedies or avoid totally leaving it to fate. Seva Bharati has been running a mobile dispensary in Nallamalla forest for past nine years. Mobile dispensary visits each gudem at least three times a month.

Contact:

Bhakta Kannappa Gurukulam
Gokavaram (Village)
Kothapalli Mandal, Kurnool district
Andhra Pradesh, 518422 (India)
E-mail : [email protected]

How to reach:

By air: Gokavaram is located 168 km away from the nearest airport which is at Hyderabad.
By train: Gokavaram is located 52 km away from the nearest railway station Nandyal Town.
By bus: Gokavaram is located 54 km away from Kurnool Bus Stop via Juturu that is located on National Highway no 7.
... ...
Share Your View via Facebook
top trend
what next
IBTL Gallery