A sigh of relief to garbage lifters by 'Janadhar'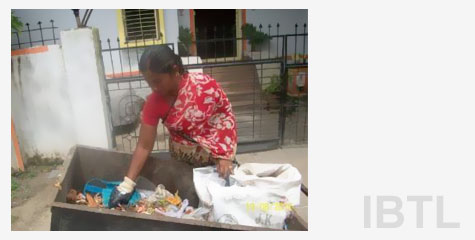 In metros as well as small cities, many tonnes of household waste as well as industrial waste is thrown away daily. The disposal of this waste is a major problem confronted by the corporation. Many people in cities earn their living by sorting paper, glass, iron, etc from this garbage and selling it to the scrap dealer. This work is done by some specific backward class people of Hindu community that particularly includes women and children. On one hand, the disposal of garbage is a major problem while on the other hand, imparting the life filled with self respect to garbage lifters is a serious challenge.

Janadhar, an organization from Maharashtra's Latur district engaged in sewa work, has developed a system to resolve both the issues. The institute formed a co-operative society of these garbage lifters. Each woman working under this scheme had to collect the garbage from 300 houses. She had to collect Rs 10 per month from each house for lifting the garbage. For this, initially, an awareness was created among the residents. People used to ask, "If corporation doesn't charge anything for garbage collection, then why only you people?". However, many people used to agree after giving them a detailed information.

Women collecting the garbage were given jackets as uniforms. In addition to this, Janadhar also provided them two big containers and a trolley. Janadhar karyakartas used to appeal to these women that they should maintain hygiene, comb their hair properly, dress neatly so that people will give them due respect.

Ten women work together for cleaning one ward under the supervision of a youth from their locality who is well educated. Each woman earns Rs 3000 per month, out of which the supervisor gets 20 per cent amount and 10 per cent amount goes to 'Janadhar' that utilizes this amount for office maintenance as well as purchasing containers, boxes, etc. Compared to earlier income, this current income of Rs 2100 per month is certainly good for these women. The money obtained by sorting the garbage entirely goes to these women only. Brokers and scrap dealers used to purchase this material at a very low cost, hence the institute formed Sheshak Co-operative Society and some people from the families of these women became the members of this society. Society erected it's own shop and began to pay more for the scrap.

Janadhar has obtained a coal manufacturing furnace from Pune's Aarti Research Institute. Coal is manufactured by putting garbage, grass, leaves, etc in this furnace. This 'kandi coal' is utilized in many industries. This furnace is located in the colony of leprosy patients. Family members of leprosy patients were trained in coal manufacturing. Women collecting garbage bring leaves, grass, etc fallen on the road to the furnace workers. The coal manufacturers pay these women for this material and make money by selling this coal manufactured in the furnace.

This organization from Latur city is now gaining grounds in the nearby Ausa city also. Many societies in Maharashtra are lauding this model of Janadhar. Director of the institute Sanjay Kamble is leaving no stone unturned for implementation of this model in other societies also.

Contact:

Janadhar Sevabhavi Sanstha,
Shyam Kunj, Shyam Nagar,
Latur, Maharashtra,
Pin 413431, India
Website: www.janadhar.org
Director: Sanjay Kamble
Mobile no: 99223409153

How to reach:

Latur by train: The city of Latur houses a major railway station that has direct trains to many locations. Direct trains to the city of Latur start from Mumbai, Pune, Nanded, Pundharpur, Hyderabad, and Usmanabad.
Latur by bus: Latur is well connected by road to many major cities in Maharashtra. The city has regular buses to the cities of Mumbai, Nagpur, Pune, Aurangabad and Kolhapur.
By air: Kingfisher Airlines connects Latur to Mumbai. The flights operate three-days-a-week.
... ...
Share Your View via Facebook
top trend
what next
IBTL Gallery