DRI Chitrakoot vows to make India 'agri superpower'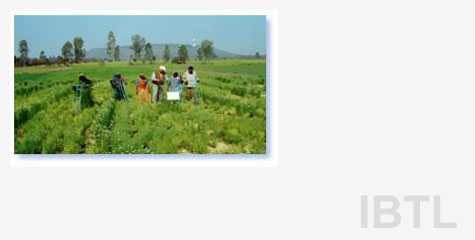 Deendayal Research Institute (DRI) is engaged in the noble work of changing the face of rural India, based on the principles of Pt Deendayal Upadhyaya's Integral Humanism. The self-reliance campaign that was launched in 2002 covers 500 villages around Chitrakoot.

Although agriculture is the major occupation of India, over 3/4th of the agricultural land holdings are uneconomic and unviable. The progress in agricultural technology has not been utilized by these marginal farmers. Regarding seeds, farmers still depend upon seed companies. Most of the farming is rain-fed.

In DIR's self-reliance campaign, the programme of converting uneconomic holdings into economic ones plays a major role. The illiterate marginal farmers of uneconomic holdings are today considered as deadweight in the country. But tomorrow, they will play a leading role in the development of the country. The project aims to make India an agriculture super power by achieving the highest agriculture productivity per acre.

Gaushala:

Gaushala at Chitrakoot is engaged in maintaining pure Indian breeds, research in cross breeding of Indian cows and in an artificial insemination(AI) Programme for improving the livestock yield and bullock performance in the villages under the self-reliance programme.

Watershed Management:

It is observed that in many villages, people are forced to carry drinking water from a distance of 5 to 6 km. At least one woman from each family is engaged in fetching drinking water full-time. A meeting of villagers from 19 such villages was called. They enthusiastically cooperated to resolve the problem on their own. During this period, Madhya Pradesh Government announced Rajiv Gandhi Jal Prabandhan Yojana and DRI was given the responsibility of implementing the scheme in these 19 villages.

Under the able guidance of scientists from Krishi Vigyan Kendra, villagers started constructing check dams in their region to harvest rain water. Men, women and children, wholeheartedly participated in the drive and completed the construction work prior to rainy season. No cement or steel was required. Only locally available stones and mud was used for the construction of these dams. Water remained stored in the pools created by these check dams. The same water then recharged the ground water. Now there is 10-15 ft of water in the local wells even in the months of May and June. These wells earlier used to go dry. As a result of these massive efforts, more than 12,000 hectares of agricultural land is now being irrigated. The Indian Council of Agricultural Research is encouraging scientists from its other centres to visit and study this experiment.

MP State Govt had sanctioned a sum of Rs 3000/Ha under watershed management programme, while Deendayal Research Institute has done the same in the expenditure of Rs 2486/Ha and saved Rs 514/Ha.

Seed Village/ Seed Club:

Increased cost of seed, poor germination, limited availability of seed and its transport are some of the constraints usually faced by farmers. Most farmers still use seed that was reproduced into their farms a decades ago. So, to meet the demand of seeds and to make the villages self reliant in seed requirement, KVK (Krishi Vigyan Kendra), Majhgawan introduced seed production programmes through selected villages. For this, a seed village in a cluster of villages, and seed clubs at the village level were developed. KVK demonstrated the seed production technology at its instructional farm. Seed villages/seed clubs are producing seeds under close supervision and guidance of KVK scientists. The seeds produced in these villages are bold and healthy. The farmers are converting more and more of their crops into high yield varieties. These villages are now not only meeting the seed requirements of their own village, but also supplying the surplus to nearby villages. The members of the seed clubs exchange their seeds for food grains within the village (for 1 kg seed they take 1.25 kg food grain from farmers).

Contact:

1)Deendayal Research Institute
Siyaram Kutir
Chitrakoot, Dist-Satna
485331 (Madhya Pradesh, India)
Tel.:- 91-7670-265 353, 91-5198-224 427
Fax:- 91-7670-265 510
E-mail:- [email protected]

2)New Delhi
Deendayal Research Institute
7-E, Swami Ramtirth Nagar
Rani Jhansi Road, New Delhi-110055
Tel:- 91-11-23526735,23526792,23524555
Fax:- 91-11-2753 6726
E-mail:- [email protected]

How to reach Chitrakoot:

By air: The nearest airport is at Khajuraho which is at a distance of 175 km from Chitrakoot. Daily flights are available from Chitrakoot to Delhi, Agra and Varanasi. Taxi services are available from airport to Chitrakoot.
By train: The nearest railway station is at Chitrakoot Dham at a distance of 11 km from the heart of the city. Chitrakoot Dham lies on Jhansi-Manikpur main line and is well connected to all major cities in India through Jhansi junction.
By bus: Regular state owned bus services connect Chitrakoot with Chitrakoot Dham, Jhansi, Harpalpur, Satna, Mahoba, and Chhatarpur. The major bus stand is at Karwi at distance of 8 km from Chitrakoot.
... ...
Share Your View via Facebook
top trend
what next
IBTL Gallery