Muslim youth attacked peaceful Janmashtami Rally in Jabalpur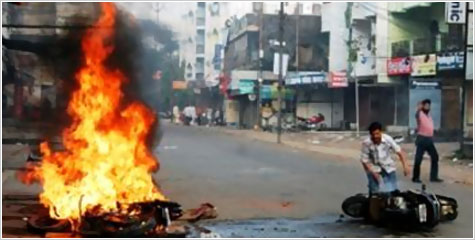 A massive vehicle rally organised by various Hindu organisations was first stopped by stone pelting and then attacked by the Muslim elements at Jabalpur in Madhya Pradesh on the eve of Janmashtami on 20 August.
A vehicle rally was organised on the instance of Janmashtami at Jabalpur. It got massive support by the devotees and local people. The rally proceeded peacefully in various parts of Jabalpur. As this rally approached the Muslim dominated Naya Mohalla area, suddenly heavy stone pelting started. As it got stopped by the stone pelting, a group of Muslim youth attacked the devotees and people in the rally. Ten devotees including senior police officer Rajesh Dandotia is reported to be seriously injured in this attack. Many vehicles were severely damaged. Situation is now tensed but under control. Section 144 is imposed in various areas of the city.
Residents are now saying that Jabalpur which has a history of peaceful social environment has got spoilt with this event. It is observed that this was a well-planned attack by the unknown local Muslim elements.
Share Your View via Facebook
top trend
what next
IBTL Gallery