Moving Planet : Lets move the planet in a new direction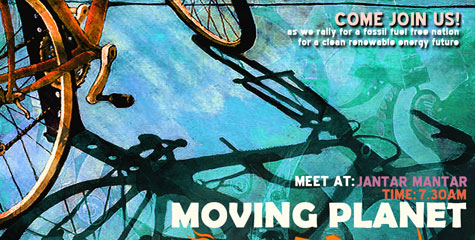 350.org's Moving Planet in partnership with WWF India, IYCN and Greenpeace will be a day to put our demands for climate action into motion—marching, biking, skating—calling for the world to go beyond fossil fuels.

WHY: For too long, our leaders have denied and delayed, compromised and caved. That era must come to an end: it's time to get moving on the climate crisis.
WHERE: Outside 7, Jantar Mantar
WHEN: September 24, 2011 @ 7.30 am
WHO: You, your friends, your family, your neighbors
WHAT TO BRING: Bicycle (if you have one)
That feeling of being stuck is how we've felt in the climate movement for years now. The scientists have told us why we must change--and every record flood and heat wave adds to their message. The engineers have told us how we can change, as they've quickly turned windmills and solar panels from promising experiments into tested technology. The only thing now preventing change is the hold of the financially powerful status quo--all those coal and oil barons, and their friends in high government places, keeping us stuck in the polluting mud of inaction.
This year is going to be about movement in every sense of the word. Not just the big shoulder-to-shoulder campaign we've built together across the world these last two years, but also actual, powerful, fun dramatic movement in the streets -- putting into action our demand for a future free from fossil fuels and dangerous climate change.
Join us at Jantar Mantar this Saturday; September 24 2011 at 7:30 a.m. and be a part of the change. Register at www.moving-planet.org/delhi
Circle September 24 on your calendar--that's the day for what we're calling Moving Planet: a day to move beyond fossil fuels.
For Queries:-
Call - 011-46792241/46/47 (Open all days from 9:00 a.m to 8:00 p.m.)
visit our website - www.moving-planet.org/delhi
Share Your View via Facebook
top trend
what next
IBTL Gallery