Supreme Court slams CBI in Amit Shah case, calls complaints absolute trash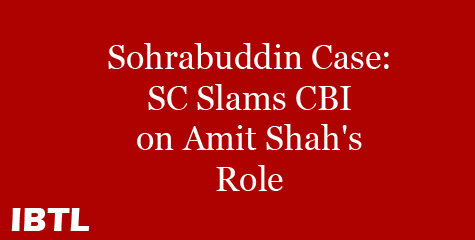 The Supreme Court has slammed the CBI severely in deliberately framing Gujarat's former Home Minister Amit Shah in connection with the fake encounter case. The CBI had described some 200 anonymous letters against Amit Shah as 'complaints' about his alleged involvement in extortion racket and had made him an accused. The 2 member bench of the Supreme Court having Justice Aftab Alam and Ranjana Prakash observed, "This is clearly an insinuation which is wholly unwarranted and totally unfair". CBI had said that no action was taken by the Modi government on these 'complaints'. The court justified that role of Modi government and reprimanded CBI by saying that indeed no action can be taken on those letters. "The complaints appear to be absolute trash", the apex court remarked.

The court also asked the CBI to "respond to all these lapses and inefficiencies". It all happened during the hearing of the plea by CBI seeking cancellation of the bail granted to Shah by the Gujarat High Court in the fake encounter killing case. Prior to it, the Gujarat High Court had also observed that there was no prima facie evidence against Amit Shah.

CBI had submitted two reports in sealed covers accusing Shah to be the masterof an extortion racket which allegedly led to Sohrabuddin's killing. Amit Shah's counsel Ram Jethmalani, highlighted that there were only 3 complaints which addressed Shah and the rest were anonymous letters or suggestions having no connection with the complaints of extortion.

Jethmalani minced no words in saying that Amit Shah is a victim of political conspiracy to which CBI is a party. Jethmalani alleged that for falsely implicating Shah in the case of Soharabuddin, who was a "gangster and extortionist", CBI had been trying to connect him with other criminal cases for "political reasons" with which the case in hand had no linkage, and it was done to destabilise the Narendra Modi government

Jethmalani said Gujarat Police has admitted Sohrabuddin was killed in a fake encounter but to say that the incident had connections with cases of extortion of money or smuggling allegedly involving Shah would be wrong. The court's remarks were in sync with Jethmalani's arguments.

Jethmalani also argued that CBI went to the extent of describing Mr. Shah as the head of a "crime syndicate" without evidence, and the CBI officers should be prosecuted and jailed for making such an allegation. Jethmalani also questioned the role of Congress ruled Andhra Pradesh police in the encounter. Sohrabuddin was tracked by the Intelligence Bureau and the Andhra police also had a role in the encounter. Jethmalani alleged that Balwinder Singh, heading the CBI investigation of the Sohrabuddin case, was prima facie guilty of suppressing information from the Gujarat police the names of five Andhra Pradesh policemen.
Share Your View via Facebook
top trend
what next
IBTL Gallery