Bebe Di Rasoi, Bhatinda to aware about abusive use of agro chemicals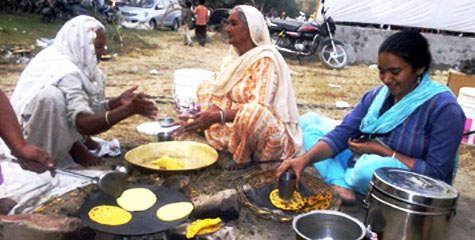 Ecological Agriculture Movement's Women Group gets huge success in marketing of traditional foods. Ladoos of Jowar, Bajra, Makka, Makki di roti and sarso ka saag and Kheer-maal poore were available.

Background : KVM has been working in Bhotna village since 2006. Shortly after started working in Bhotna, ecological agriculture among the women was also initiated. Initially it was confined to awareness about environmental health problems and its roots in abusive use of agro chemicals in fields. After adoption of Bhotna village as part of Tata Trust sponsored CSA-KVM project in 2008 several focused activities were started.

Now near about 50 women are practicing organic kitchen gardening. These are those women who come to attend our meetings and the exact number of women practicing organic kitchen gardening is more than this. Even our work is spreading in nearby villages also.

DDS and CSA work among the women through SHGs inspired KVM to adopt the successful model of women groups to undertake several commercial activities within ecological agriculture fold. So KVM made a women group in the village so that they can take this movement ahead and spread the words.

KVN has already organized village level food festivals and one food festival at Chandigarh at large scale. This year KVM also had a small trail of commercial food stall at Bhotna where we got good response. Women group earned rs 1357. It gave women confidence to do such event in the open public program.

Bebe Di Rasoi at Prof Mohan Singh fair, Bathinda : From 4th Nov to 6th Nov, this group organized Bebe Di Rasoi – traditional food stall at Professor Mohan Singh fair at Bathinda. On this food stall ladoos of Jowar, Bajra, Makka, Makki di roti and sarso ka saag and Kheer-maal poore were available. The inauguration of our food stall was done by Jagdev Singh Jassowal, a former minister of Punjab and Patron of fair by eating ladoos of Jowar. On this three days fair, we not only sold food but also make aware people about the food and medicinal-health value of this food. Punjabi film actor Satish Kaul also visited our food stall. Media also covered this food stall.

The investment made by women was 13950 and they earned 30330 so net profit was Rs. 16380. Every women get Rs 2700 as her share from net profit. We got three offers to organize this event at another fairs also. So we got a good response from the people and we had a wonderful experience. Now we are formally registering Women SHG.

I hope it will boom our ecological agriculture movement in Bhotna village, thanks to SDTT and CSA for enabling us to take-up such initiatives.
Share Your View via Facebook
top trend
what next
IBTL Gallery