Sanjeev Bhatt lied under oath? Ex-DGP R B Sreekumar says so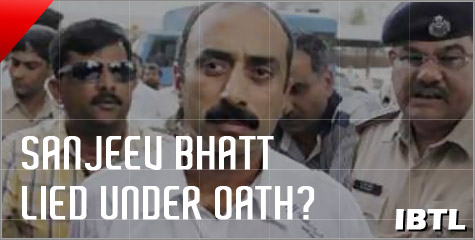 There's another bad news for suspended cop Sanjeev Bhatt. Former DGP R B Sreekumar has submitted in writing to the Nanavati Commission asserting that suspended IPS officer Sanjiv Bhatt was not his staff officer at State Intelligence Branch (SIB), as Bhatt had claimed during his deposition before the panel probing the 2002 riots. Sreekumar also said that in the first place, there was no such post at all, neither did he have powers to create such a post.

- - Related Articles - - - - - - - - - - - - - - - - - - - - - - - - - - - - - - - - - - - - - - - - -
# Sanjeev Bhatt and recruitment scam in 1996
# Sanjeev Bhatt not a Whistle blower
- - - - - - - - - - - - - - - - - - - - - - - - - - - - - - - - - - - - - - - - - - - - - - - - - - - - - - -
He also catagorically denied Bhatt's version saying that Bhatt did not accompany him in any of the conferences or meetings chaired by the CM, which he had attended. Bhatt only attended the meeting chaired by K P S Gill which took place on May 10th, 2002, he revealed.

Sreekumar, who was SIB chief between April 9, 2002 and October 18, 2002, himself handed this letter over to the commission.

Sreekumar also revealed that during his stint as the SIB chief in 2002, he had requested all the officers, including his predecessor G C Raiger and Bhatt, to file affidavits before the commission but they did not. Sreekumar said that when the then DGP K Chakraborthi directed him to file an affidavit in his capacity as ADGP (intelligence), he had requested him to direct his predecessor to file one, as he took charge on April 9th, but his predecessor didn't comply with the verbal orders and no written orders were issued.
Share Your View via Facebook
top trend
what next
IBTL Gallery