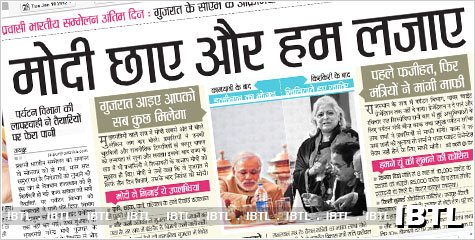 Gujarat Chief Minister Narendra Modi outshined others in Pravasi Bharatiya Sammelan at Jaipur. The joint session was participated by the Chief Ministers of Rajasthan, Gujarat, Kerala and Jharkhand. After completion of speeches of three Chief Ministers, when Gujarat Chief Minister stood up to talk, the delegates from 60 countries welcomed him with amazing energy. Modi continued to receive applause throughout his speech. When he completed his speech, there was a spontaneous standing ovation.

Modi kept aside the copy of his prepared speech in English and launched a scathing attack on the Centre, suggesting that it was only the Congress-ruled States like Rajasthan which got the "blessings" of the Union government, while routine requests from other States failed to elicit any response. He affirmed that whatever his State had achieved in terms of infrastructure development, affluence and living standards, it was from its own resources. "The Rajasthan CM was taking about how much he had got from the Centre. I am not that fortunate. Gujarat gets nothing from the Centre, it's a self-made state," he said. "I don't have the facts and figures like Gehlot had, but in 2001 my state had 11 universities. Today there are 41, many of them for specialized subjects like forensic science."

During his speech, while speeding on solar power, Chief Minister Modi said in a lighter tone that as he is the guest of Shri Ashok Gehlot, how he can speak good or bad? In reaction to this, an embarrassed Gehlot, the Chief Minister of Rajasthan stood up and grabbed the mike from Modi, and said, "you can speak good and bad both kinds of things, I am going." Gehlot and Modi shook hands exchanged smiles and Gehlot then left the place.

"The remarkable development in Gujarat and the double digit GDP growth it has been enjoying for years was possible because of the 'think big' approach,", Modi said. "Scale, speed and skills" were the three pillars of this approach that had the potential to make the 21st century the century of India. In his speech, Modi said that Gujarat produces so much milk, that there's perhaps no leader in Delhi who has grown up without drinking Gujarat's milk.
Modi proposed to host Pravasi Bharatiya Sammelan in Gujarat in year 2015 when Mahatma Gandhi's India arrival would complete 100 years. Mahatma Gandhi had returned to India from South Africa on 9 January, 2015. As Modi sought Vyalar Ravi's consent for selecting Gujarat as a host state, Ravi remained silent. Modi then said, "You had awarded Pravasi Bharatiya Divas to Jaipur last year in New York in a minute, but why not now?" But Ravi remained quiet.
Ravi vented his anger at the NRIs who were keen on showering to te Gujarat Chief Minister. Ravi snapped at one of the NRIs not allowing him to speak further when the latter commented about Rajasthan needing a clone of Modi as CM.
Share Your View via Facebook
top trend
what next
IBTL Gallery