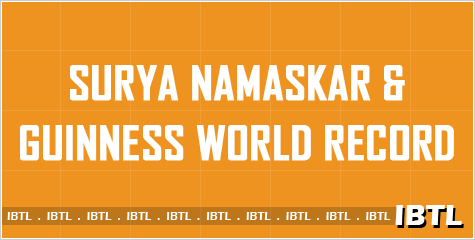 The Muslim fatwa and Secular deception not withstanding, over 70 lakh people, most of them students, performed Surya Namaskar across Madhya Pradesh. The event was organised by the State Government through its School Education department marking the coming of Uttarayan, or Makar Sankranti.

Despite it being cold and the exercise being completely voluntary, students in Government schools and colleges flocked to perform the Sun salutations. Muslim students openly defied the fatwa issued from Bhopal calling this age-old tradition as unislamic. Read here [a fatwa in india against surya namaskar] Over 6000 schools participated in the event which is set to go into the Guinness Book of World Records, now.

Chief Minister Shivraj Singh Chauhan himself led from the front. The signal to begin the Surya Namaskar was given via All India Radio. The Chief Minister was seen stretching out on the occasion despite the fact that he was recently operated in his left palm. With 15 stitches, bandage was visible in his palm.

The School Education Department had already intimated the officials of Guinness Book of World Records regarding this exercise. For the purpose, special arrangements were made by installing video cameras in all the campuses where Surya Namaskar was organised. The recording will be sent for review to those who handle the Guinness Book of World Records. It will take around a month for the record to be updated. The Guinness Book of World Record in largest aerobics demonstration is currently with Kazakhstan in which 48 lakh people had participated.

Despite the event nurturing an age-old tradition of India, Muslim Organizations, Christian organization and Congress have opposed the event. Embarrassed Muslim organizations, which were until yesterday, calling it anti-Islam, changed their tone, and are now calling it 'against the constitution'. Five organisations of Muslims had opposed the event and appealed to the Muslim parents not to send their wards to school on the day. The Isai Mahasangh (IMS) stated that it would approached the Guinness World Records authorities asking them not to include the event, as it promotes communal discord in a multi-religious society. Congress MLA and leader of the opposition in MP Assembly Ajay Singh said that Surya Namaskar is meant to create discord among children of different religions and it is a crime. Congress also alleged the exercise to be meant for pleasing RSS.
Share Your View via Facebook
top trend
what next
IBTL Gallery