British Era coin of Lord Ram's image traced at Andhra Pradesh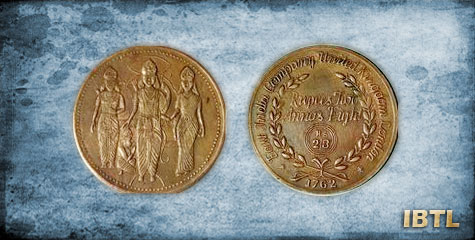 Bhadrachalam, Andhra Pradesh: Expected to be released in 1762, a copper coin dating back to the British era with images of Lord Rama, Sita, Lakshmana and Hanuman on one side was found in the hundi of the Sri Sitaramachandra Swamy shrine in Bhadrachalam in Andhra Pradesh.

The coin in the denomination of Rupees Two Annas Eight (Rs 2/8) was issued by the East India Company in 1762. The temple staff chanced upon the rare coin during the counting of hundi collection on Monday. They handed it over to the Executive Officer Bhadrinathacharyulu.

"We are planning to preserve it in the separate enclosure where the rare ornaments such as Kaliki Turai and Pachala Pathakam donated by the saint composer Ramadasu are put up for public display in the temple complex," said Mr Bhadrinathacharyulu.


Bhadrachalam , a town known for the Sri Rama Temple constructed in the year 1674 A.D., is a Municipality in Khammam district, in the state of Andhra Pradesh, India. It is located 312 kilometres (194 mi) east of state capital, Hyderabad. The Bhadrachalam Temple, where the presiding deity is Lord Rama, is an important site of pilgrimage for Hindus. It is situated on the banks of the river Godavari. The town has a documented history of more than 450 years.

Source : Samvad.org
Share Your View via Facebook
top trend
what next
IBTL Gallery