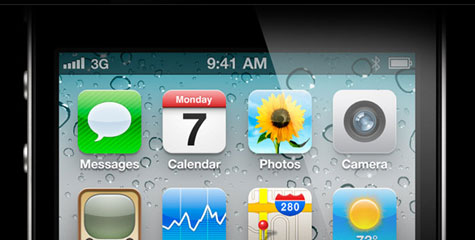 iPhone 4S : The dual-core A5 chip delivers even more power. The 8MP camera with all-new optics also shoots 1080p HD video. And with Siri, iPhone 4S does what you ask. Talk about amazing.
Pre-order online beginning October 7.
Order from the Apple Online Store or by calling 1-800-MY-APPLE. Choose a carrier and plan, and we'll ship your iPhone free for delivery beginning October 14.
Available in store at 8:00 a.m. on October 14.
Come into the Apple Retail Store, and we'll help you choose the best carrier and rate plan. Then we'll get your iPhone up and running before you leave the store.
iPhone 4S Features :
Siri. The intelligent assistant that helps you get things done.
Dual-core A5 chip. The most powerful iPhone processor ever.
The you-can't-believe-it's-on-a-phone camera.
Video recording. In 1080p amazing HD.
iOS. The world's most advanced mobile operating system.
iCloud. Your content. On all your devices.
Retina display. Clearly remarkable.
FaceTime. It's even better face-to-face.
AirPlay. From the small screen to the big screen.
AirPrint. Print everything wirelessly.
Call it better, faster, and even more worldly.
Built-in apps. They do just about everything. So you can, too.
... ...
Share Your View via Facebook
top trend
what next
IBTL Gallery