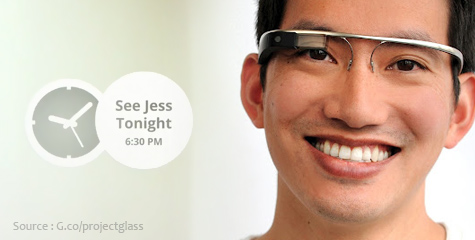 Google Inc is getting into the eyewear business with a pair of thin wraparound shades that puts the company's Web services in your face. The experimental "augmented reality" glasses – from the same team that is developing self-driven cars – can snap photos, initiate videochats and display directions at the sound of a user's voice.

A group of Google[x] started Project Glass to build this kind of technology, one that helps you explore and share your world, putting you back in the moment. A few design photos to show what this technology could look like and created a video to demonstrate what it might enable you to do.

The video, ominously titled "One Day …" depicts what a day in the life of a Google glasses-wearer would be like, the video starts with the glasses booting up. A series of icons flash into his field of vision, Terminator-style. He checks his calendar and the weather, chats and shares photos with friends in his circles (remember that week we were all active on Google+?) and listens to music.

The physical glasses frame itself, while not as clunky as it could be, is sort of a dorky optical Bluetooth. Something that seems like it would feel at home on Levar Burton.



Share Your View via Facebook
top trend
what next
IBTL Gallery