India's first Stereoscopic 3D Movie on Swami Vivekananda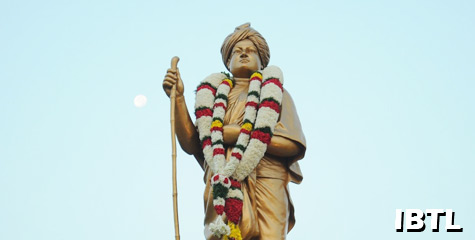 Vivekananda house at Chennai, India - housing a cultural heritage museum in memory of Swami Vivekananda, launched India's first Stereoscopic 3D short movie on Vivekananda and his message to the youth.The first movie clip is about lecture of Swami Vivekananda addressed to the youth titled "My Message to the Youth" with a duration of 6 minutes created using realistic 3D Modeling. This is in partnership with GISR (Global Institute for Stereo Vision and Research) located in Chennai. For the first time in India, a realistic model of Swami Vivekananda in full Stereoscopic 3D format has been attempted by Ramakrishna Math, Chennai in partnership with GISR.

Even at Hollywood studios, only a few movies (Tom Hanks 3D Model in Polar Express and Anthony Hopkins 3D Model in Beowulf) have attempted realistic 3D models of humans and even so with living ones. With Swami Vivekananda, it's much more complex since photographic references are only available. Padmashri R M Vasagam, distinguished space scientist at ISRO, inaugurated the facility at Vivekananda House. He also previewed the first 3D animation movie using 3D Glasses on Swami Vivekananda in the theatre. Viewers were very excited about the launch of such a facility and expressed great enthusiasm and excitement about the same.

Chennai's first 3D Holographic display system was also inaugurated in Vivekananda House today. The system allows users to see Swami Vivekananda in a 3Dimensions perspective.

Vivekananda House is the place where Swami Vivekananda stayed for 9 days on his return from the West in February 1897. The patriot saint, known for his deep love of India and its heritage, met multitudes of people who thronged the place to meet him.

In commemoration of the 150th birth anniversary of Swami Vivekananda (2011-14), Sri Ramakrishna Math has taken up this activity as the first phase of project "Experience Vivekananda". Swami Gautamananda, Head of Sri Ramakrishna Math, Chennai , indicated that more such newer attractions were being planned for Vivekananda House so that today's modern youth could assimilate Swami Vivekananda's ideas and benefit by them.

Schools, Colleges and corporate groups can plan their trip by contacting Vivekananda House on phone No.91-44-28446188. The exhibition is open to public all days from 10.00 AM to 12.00 PM and from 3.00 PM to 7.30 PM except Wednesdays. The ticket prices are Rs.10 for Adults and Rs. 5 for Students.


Sri Ramakrishna Math, Chennai
31 Ramakrishna Math Road,
Mylapore, Chennai -600 004
Ph: 91-44-24621110
Share Your View via Facebook
top trend
what next
IBTL Gallery