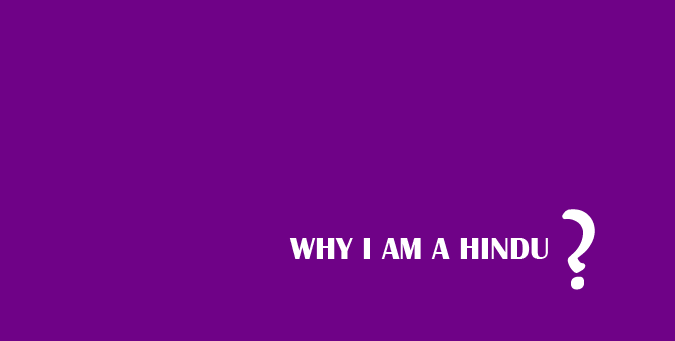 I was a born and brought-up as a catholic and knew absolutely nothing about India, Hinduism and Hindus. When I was a young Frenchman of 19, I had the privilege to hear about the Mother and Sri Aurobindo, through a friend, whose father was the last Governor of Pondichery. My friend told me that a caravan of 5 cars was about to drive from Paris to Pondichery. On a hunch, I joined this caravan.

Upon arriving in Delhi after driving through nine countries,
I felt I had come home and that this country was a very special place.
I lived in the Pondichery Sri Aurobindo ashram for seven years. These were wonderful times: the Mother was still alive and everything looked new, everything seemed possible. One read Sri Aurobindo, of course, as he was the Master and the inspiration of the place, but one either did not understand or felt disconnected to his political writings.
Thus slowly, I became acquainted with the eternal principles of Hinduism:
# A Hindu is one who searches for the Ultimate Truth.
# Unlike other religions, Hinduism refuses to sanction the monopoly of one God, or one Scripture as the only way to salvation.
# Hinduism is the eternal faith, Sanataana Dharma, or the universal law by which all humans are governed.
# Hindus believe that the soul takes birth in a physical body, dies, gets reborn, until it has attained Perfect Divinity.
# Hindus believe that one can cleanse oneself from karmas through yoga practices, such as pranayama, meditation or asanas.
# One can be a Christian, a Muslim, a Jew, or from any other religion and still practice Hinduism. His Holiness Sri Sri Ravi Shankar has shown the way: breath has no religion and pranayama can be practiced by anybody, whatever their creed.
In that sense, I consider myself a Hindu
Author :
François Gautier
|
[email protected]
| Ph: 0413 2622209 / 9811118828
Share Your View via Facebook
top trend
what next
IBTL Gallery