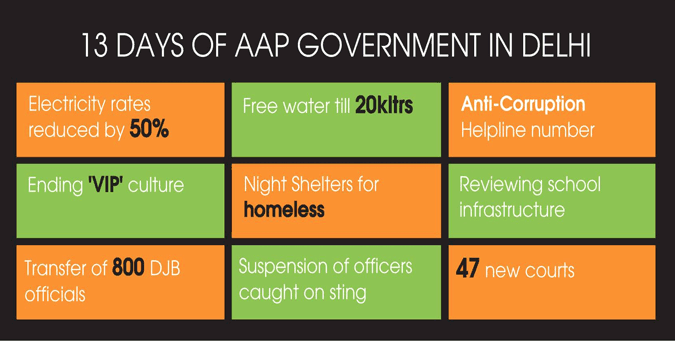 You see what's really happening?
Most of those who were bullish on AAP before government formation have gone mellow. Even inside their heart they know that AAPCON govt was not what they truly wanted, no matter how much defend the "referendum".|

Most of those who were with CON camp have started defending AAP in some way of the other. "I am not an AAP supporter, but..." has started coming out.

And almost everyone who was against Modi and/or Hindutva is now seeing the futility of supporting a sinking ship called Congress, and hence softly defending AAP or at least not attacking them. The 2013 Rahul versus Modi hype has almost disappeared. Rahul is gone and now they desperately need someone to stall Modi's march.

The AAP guys who were vehemently opposing Congress, attacking Sheila and gang, are now mellow on CON corruption. (Like this Hitler video watch the sub titles again, and realize the irony after AAP took support from the same party they primarily demonized before election)

And the AAP guys who were setting time tables before elections - we will do xxx in yy days, are finding excuses of system, machinery etc. If no excuse is available, the only option is to pick some anti BJP or anti Modi material and feel temporarily satisfied.

The only guys who are sticking to their stand are the ones who strongly supported Modi all along. They knew CON B team formation reasons, and they are laughing. big time

If that laugh is not enough, watch this short video of Arvind Kejriwal getting exposed head to toe, changing colors like chameleon ! I also tried to watch his body language on his eyes move just before he starts to lie (he knows he is not going to stick to those words). Observed a few eye movements. Need to watch closely as he has succeeded in duping millions already!
I will never fight elections in my life (Now AAP)

I don't want to hold any post in my life (Now CM)

We are going straight to end corruption. By taking help from BJP or Congress, we can't fight corruption (Now AAPCON govt)

If we can't form a government (numbers), we will sit in opposition. (Now AAPCON govt)

We have just submitted 370 page evidence against Sheila Dikshit govt with the police. These are from CVC, CAG and other investigative agencies. We are not making anything up. If police does not file FIR within 7 days, we will go to court (Now BJP should provide proof, and we are just in govt for 8 days give time)

We want to remind Ramdev ji that on 2010, 14th November, that 370 page report (against CWG corruption) was prepared by me. (Now they were just paper cuttings, no specific names were there, not from authentic agencies)

If someone wins from your constituency, he will stay in the same house. No big house (now 10 room duplex 9000 sq feet area house, inspection, renovation, and then drama)

700 liters of free water for every family in the city (now 670 liters, that too only for those with meters, meaning the poorest of the poor got screwed, talking of "short term" and "long term" measures, which was never in the manifesto while fooling aam aadmi)

PS: One more drama. Kejriwal for Dilli, Modi for Center was also a temporary drama till the brainwashing removes the second part. Watch out if you were brainwashed with that clever slogan.
# 25 Questions to Arvind Kejriwal and his Fan Boys
# Questions to Corruption poster boy AK from the Real Anti Corruption Crusaders
# How BJP-Congress misread 2004 and 2009 results, India paid the price
# Kejriwal-Sisodia, has received 400,000 Dollars from the Ford Foundation
Author : Kiran KS | Follow the writer on twitter/KiranKS
Share Your View via Facebook
top trend
what next
IBTL Gallery