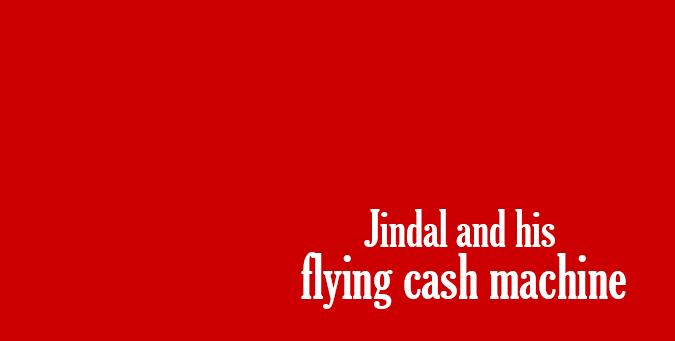 Naveen Jindal's toothy grin and smarmy look accompanied by his expensive suits do not seem to be persuading the authorities that he is a honest politician. This Congress MP who prides himself as a second rate Tiranga bangle seller is also the beleaguered director of Jindal Steel and Power Limited. Naveen Jindal has faced public scrutiny since the CBI [ Centre Bureau of Investigations] decided to frisk him in June 2013 in relation to the coal scam. Conveniently, Naveen Jindal was out of the country, swanning around in the USA and then England. Despite these FIRs, there appeared to be no objections from any of these countries to him lounging around eating five star cake while the CBI struggled to conduct their investigations. The CBI merely advised Jindal to return to India. Jindal decided to take his time. Booking the next flight to New Delhi didn't occur to the man of steel.
Eventually, he landed back in India and was rather puzzled when the CBI tried to search for some vital files essential to their investigation. Despite the CBI's meritorious efforts at seeking the files, here, there and everywhere, this caged parrot kept flying straight into a brick wall. In the meantime, Jindal and his flying cash machine flew around India claiming he would comply with all investigations.
The Coal Ministry apparently rolled its eyes and cited that files were either "not available, traceable or missing". The judiciary were unimpressed with the entire saga, and stated "You (Centre) cannot do like this. Your explanation that files are being searched is not reasonable. This will not help". The court continued, "It is an attempt to destroy the records in the case". It is unbelievable that there could be missing files in an electronic age. Jindal remained tight-lipped hoping that his diamond studded smile and doe eyes would convince the world he was the innocent party. Of course, no one was convinced and all arrows to corruption pointed straight back at him.
Of course, everyone will remember that Jindal's "good friend" and fellow Congress MP, Mr Shashi Tharoor was sporting his matching fashionable sunglasses while posing with Jindal and endorsing his doomed Tiranga "magic" bangles. Tharoor has remained completely silent about the fate faced by his "friend" and appears to have distanced himself. In the meantime, election fever has not been kind to Tharoor, the opposition [The Bharatiya Janata Party] have alleged that Mr Tharoor, a Congress candidate from Thiruvananthapuram, met missionary pastors during campaigning and offered money in lieu of votes. Given the company he keeps, these allegations are hardly surprising. To add fuel to the flaming fire, a pastor is allegedly heard in the audio recording claiming that Rs. 1000-1500 were offered by Mr Tharoor. Its abundantly clear, the Congress cash machine is flying first class attempting to buy out India.
In the meantime, Jindal's reputation took a further dive today. India's Enforcement Directorate [ED] has issued a money laundering charges against him and former Minister of State in the Coal Ministry Dasari Narayana Rao. This is in relation to the coal block's case.
Sources stated that the charges were developed after it discovered multi-layered transactions between firms owned by Jindal to Rao's firm based in Hyderabad. Apparently, illegal funds were routed for "favours" provided for the allocation of coal firms to Jindal in 2008.
After registration of the case, head of external affairs at JSPL, Manu Kapoor tried to duck tape its beleaguered reputation and told the world "JSPL, as a law abiding company, is governed by a strong ethical code of conduct. This is an ongoing CBI investigation into coal block allocation. At this stage of investigation, JSPL is committed to fully cooperate with CBI."
Its fine for JSPL to play their monotonous broken record but in the end, there is a trail of money and it is only matter of time before the investigators find where that leads to. In the meantime, Jindal and Tharoor can both be found swanning around India with matching designer sunglasses on their glitzy election bandwagon trying to convince the innocent that they are worthy men. The reality is they are both only fit to be third rate cheap bangle sellers not leaders in Indian politics. Perhaps when they are voted out, they can return to selling Tiranga Magic Bangles to the naive and gullible.
Share Your View via Facebook
top trend
what next
IBTL Gallery