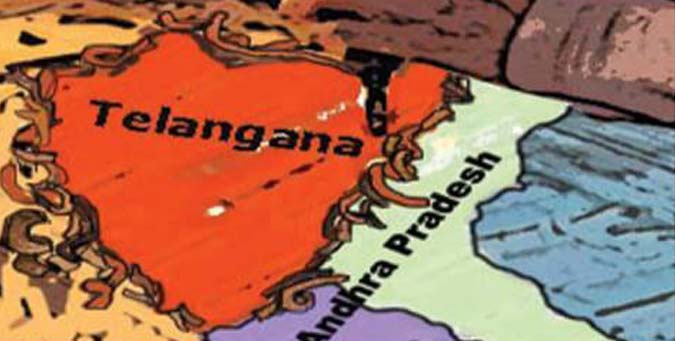 Over the last 7 or 8 months, I have been continuously reading reports on the state of Andhra Pradesh. There is a section of people who support bifurcation of the Telgue state; there is a section of people who oppose it. I belong to none of these categories but I can relate well to the people of these regions because I belong to, what can be called as the youngest state of the India, Jharkhand. Although not so violent and emotional but the sentiments were emotional even during the struggle to carve out the state of Jharkhand. I have been witnessing that the State of Andhra has been subject to multiple agitations and riots by both the groups which has rocked the day to day living, created uncertainty and a feeling of hostility between 2 groups who now hate each other very much like India and Pakistan hate each other. I would therefore, write in favour of both the groups and justify why both of them are right and how a possible solution can be brought out.
Why NO Telangana (For those who favor Telangana)?
Hostility – The basis of Division is Language and Regional factors, this would lead to further rift and hostility among people of the 2 regions.

Opportunist Forces – A small State would also revive a host of Regional parties and possibly subject the state to grave dangers. For example TRS is supporting the state because they see through it, an opportunity to run a Government and enjoy the power. Another regional party MIM would rise. All the Secular Muslims and Hindus would be under threat, should this party grow as one of its leaders had infamously called for killing of 80 Crores Hindus in 15 minutes.

Stability – Take the case of my state Jharkhand, we have witnessed almost a dozen Chief Ministers in as many years. The state is not able to govern properly because governments fall even before it starts functioning. Despite being rich with resources, the state is one of the poorest in the country. One of the biggest scams occurred in Jharkhand. Do you want someone like Madhu Koda (an Independent MLA) to be your Chief Minister?

Naxalism – Post the creation of Jharkhand and Chhattisgarh, the problem of Naxalism has aggravated in the states. Smaller States means, easier for Naxalites to chalk out and implement their strategies..

Development – If you check the recent performance of 3 states which have been formed, one would find Bihar has done remarkably well than Jharkhand, MP has done better than Chhattisgarh while UP and Uttarakhand are more or less same. SO it is a myth that smaller states lead to better or faster development.

Political Attention – Imagine the kind of attention Uttar Pradesh gets today. It is the centre of attention for all National Parties as it sends largest MPs to the Parliament. Imagine s state like Orissa which has 21 MPs. Does it get equal attention? With 42 MPs, Andhra Pradesh would always be a force to reckon. With 25 and 17 MPs, they wouldn't care much about you.

To conclude, it is fair to say that certain political groups are fueling this fire to fulfill their political appetite not for the concern of the people.
Why Telangana (For those who favor United Andhra)?
Development – Probably you fear that, with Telangana gone, the most resourceful areas would be carved out. Take a look at Bihar; Ranchi Jamshedpur, Bokaro Dhanbad, etc were all developed cities which went to Jharkhand. Bihar had only Patna and no resources. Jharkhand has the largest Coal Block reserves, Iron Ore and even Uranium. Despite that Bihar witnessed an unprecedented development. Same is the case with Madhya Pradesh. So if you have an able leadership, it won't matter and you would witness development despite the rich cities going to Telangana.

Wishes – People of Telangana region want a separate state, this should be the biggest motivator to accept the demands of the region. Thousands of people have laid their lives for this movement. Their sacrifice should not go in vain.

Amicability – You fear that once the state is divided, you would not be welcome to Telangana. Your fears are accentuated by Hate Mongering politicians. However the fact is, Telangana would still be a part of India and you are free to live, travel and work there as a citizen of the country. We do not have a Complete Federal structure which requires us to be Citizens of States as well as the countries.

Opportunist Forces – Many politicians are opposing the division. That is not because they are concerned for you but because they want to cook their food in this heat.

Administrative Reasons – While carving out a state on Linguistic and regional reasons should be opposed, if it is done so as to improve Administrative efficiency, it should be encouraged. Do remember, It is easier to govern smaller states (Caveat is that the Administrator should be an able person).

Peace – Prevalence of peace should be a big motivator. It would make sense to amicably divide the state and let the environment of peace prevail in the region. Both sides are losing amidst the prolonged violence and agitations.

Ideal Solution and Necessary Steps
For a good government it is important that it caters to both the regions and not just 1. It should take steps to ensure that Justice is done to both regions and take some of these steps
Do not divide the state in a rushed up fashion. It appears that the division is being done to serve electoral purposes. Everything should be addressed in the next 2 years and the state should be bifurcated in 2016-2017 when it is more feasible and all the issues have been taken care of. People of Telangana have waited 60 years. They can possibly wait for another 1 or 2 years.

Ensure Law and Order is robust and the issues of Terrorism and Naxalism are minimized, as the state is subject to intense Naxal and Terror elements. Even the capital Hyderabad has witnessed many terror attacks in the last few years.

Since the richer cities like Hyderabad and Secundarabad and some other cities with Natural Resources are going to Telangana, announce a Financial package for Seemandhra region for development of a hi tech capital city.

Address the water problems and ensure that the Rivers of Andhra have been joined so that none of the regions face water crisis after the division.

Ensure that citizens of each state can live, work and study in the other region without any prejudice. Focus should be laid n building good number of government run engineering, medical colleges according to the population before the division.

Finally it is up to the people how the approach. Not everything is in control of an individual. Best thing is to not let emotions rule your decisions and respect others' wishes. Do not fall prey to parties and politicians who are playing divisive politics over the division because who wins this battle is not clear, but is clear that it will be you, the people of both regions who lose.
Author : Suyash Bharadwaj | Follow the writer twitter.com/Suyash75
Share Your View via Facebook
top trend
what next
IBTL Gallery