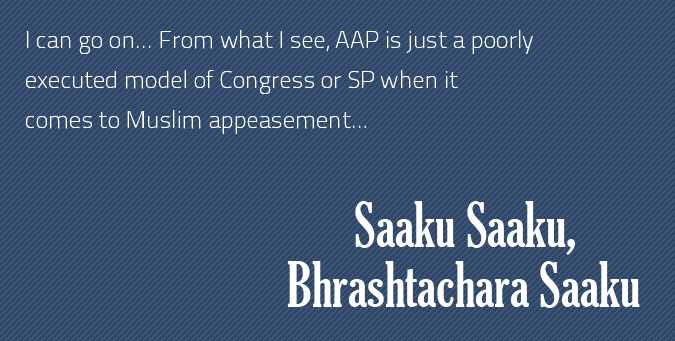 I think many youngsters are getting carried away with a "clean" and "fresh" option in politics. They are not realizing the risks and mistakes. I will make one attempt to drive some key points for them to ponder. This is not about BJP or Congress. This is about whether the "fresh" option is even worth considering.
I am one of those who attended Anna Hazare's meet, walked on streets with "Saaku Saaku, Bhrashtachara Saaku" slogans, and even donated some money. That was in 2011. Strongly supported the online India Against Corruption movement. I liked their fresh approach. Now fast forward to 2013, all the original team members have abandoned Arvind Kejriwal. Anna is on record saying he would not vote for Arvind. To me, it clearly shows that Anna's noble mission was hijacked. Beware of hijackers.
For any political party, India's complete integrity and sovereignty should be a top priority. I have closely observed Prashant Bhushan and a few others from AAP top ring. They have blatant disregard to India's army, police and fight against terrorists & separatists. Prashant is on record saying that Indian army is responsible for killing Kashmiris. He is not naive to not know the difference between Indians who are abiding law and those who fight a war against India. Beware of those who do not believe in India's sovereignty.
For a party, respect for law enforcement of the state and country is mandatory. Arvind Kejriwal is on record wooing disgruntled elements of Muslim community by terming Mohanchand Sharma's fight at Batla, as fake. Even after the court proved Arvind wrong, he has not apologized for his blatant disrespect for honest police officers. Similary, Arvind termed Ishrat Jehan as innocent again walking the same pseudo-secular line targeting Modi. Reality was that not just US court convicted David Headly confirmed that Ishrat was a suicide bomber, even the latest catch in India, Yasin Bhatkal, has made it clear that she was with Indian Mujahideen and/or LeT. In Pakistan LeT even gave ad grieving for that "mujahid"! Infact Arvind took more interest into Ishrat than his own party's murdered activist Santosh Koli. He never went hard to get a probe done on who killed this RTI activist. Arvind is on record saying "many innocent Muslims were killed in Gujarat". AAP has worked with Sanjiv Bhatt, who is vehemently pro Congress and anti BJP. The so-called exposes they made were debunked quickly during Gujarat elections. Weren't many innocent Hindus burnt down also in a Gujarat station? Did he work with the families of Kar sevaks who were killed at Godhra? Why this selective pick? Beware of a party that disrespects law enforcement, communalizes riot deaths and intelligence departments.
All political parties are expected to stand up for Indian state first. But I have seen Prashant Bhushan and others signing clemency for Afzal Guru (Gooru) who attacked Indian parliament. If the temple of your democracy is attacked by foreign terrorists, supported by local traitors, an open support to them in the form of pardon letter signature is unpardonable in my view. Naxals as a matter of coincidence, term Indian parliament as a pig-sty. Beware of those who have disrespect for the centers of democracy.
Binayak Sen, a convict now out on bail, is helping AAP make policy decisions. He was convicted for waging a war on India. He was found guilty in the court of meeting a dreaded maoist terrorist Narayan Sanyal (accused of killing 300 Indians) more 33 times over a month. Beware of a party that employs such convicted terror-couriers under the guise of "expertise".
Arvind Kejriwal, when he was nothing, used RSS sponsored events like Swadeshi Jagaran Manch to reach out to more people, and make a name for himself. It was reported that RSS and Sangh Parivar people helped in large scale during Anna's Ramlila protests. Baba Ramdev even went a step further and mobilized his crores of Yoga followers. Ramdev even to the extent of getting on the stage supporting the anti corruption movement. But once Arvind backstabbed the movement, his team started demeaning Baba Ramdev. But still Baba's team fed AAP volunteers during Uttarakhand flood relief operations. Worse, AAP openly terms RSS as taliban. Beware of backstabbers and ungrateful opportunists.
It was well known in Uttar Pradesh how Tauqeer Raza was arrested for Bareilly riots, how he had issued fatwa for beheading Taslima Nasreen and his support for assassination of visiting US President Bush. Even Sonia Gandhi slowly dumped that Jihadi cleric Raza after Digvijaya Singh brought him into Congress office 4 years back. Arvind can't be that naive to not know the antiques of an arrested hate speech maker. He clearly played sick communal card. The same way in 2011, Arvind met Imam Bukhari of Dilli's Jama Masjid. Imam Bukhari has a non bailable warrant for over a decade (no govt having guts to arrest him), plus dozens of other warrants against him. He was openly seen for calling for Islamic Rule in India. So beware of a party that meets radical, society dividing mullahs.
Arvind Kejriwal is termed as a shoot and scoot activist. This is mainly because all his "exposes" have been just TV camera based publicity stunts. He has not pursued any case till completion like Swamy got 120+ corrupt 2G licenses purged at court. Beware of selective allegation making folks.
Arvind Kejriwal misused the phone numbers collected by Anna Hazare's movement, for his own AAP's campaign. Isn't that unethical and a corrupt practice? IAC is not AAP. He should have collected a fresh list using missed call or other options. Beware of double standards on corrupt practices.
In Uttarakhand BJP promised the exact same Lokayukta bill that Anna wanted during the last state election. Did Kejriwal even issue one word supporting them, forget campaigning for them? It was not Lokayukta matter, but power that was important. Beware of such folks who focus on self, and not the cause.
I can go on... From what I see, AAP is just a poorly executed model of Congress or SP when it comes to Muslim appeasement. It's a soft supporter of naxalism. It's a soft supporter of the line toed by Jihadis in Jammu and Kashmir that Indian army is the culprit. And it has demonstrated a blatant use and throw methodology starting with Anna.
Yes, it has good causes like RTI. It has a good cause of manifesto at constituency level. It has a good plan to keep criminals out (except Binayak Sen kind of maoist terror convicts).
But when you weigh the pros vs cons. I see that cons overweigh goods by a big scale. Study them well, understand the major risks to India's democracy and sovereignty if guys who don't believe in India and its security forces, come to power. On any day, life of a jawan is more precious than an RTI application!
# 25 Questions to Arvind Kejriwal and his Fan Boys
# Questions to Corruption poster boy AK from the Real Anti Corruption Crusaders
# How BJP-Congress misread 2004 and 2009 results, India paid the price
# Kejriwal-Sisodia, has received 400,000 Dollars from the Ford Foundation
Author : Kiran KS | Follow the writer on twitter/KiranKS
Share Your View via Facebook
top trend
what next
IBTL Gallery