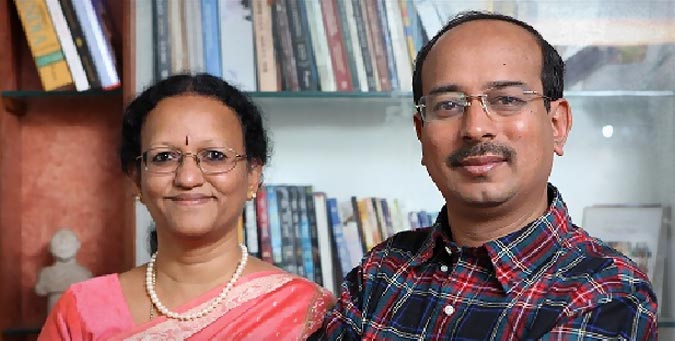 The Hari couple are conceptualizers and founders of Bharath Gyan, a research initiative, engaged in collating the knowledge of India and its pan global ties through the ages, from a scientific, rational and integrated perspective.

In times when the gap between traditional knowledge of India and the manner in which knowledge is assimilated by the present generation, seems to be widening further and further, the Hari couple through their Bharath Gyan initiative, have been efforting to bridge this gap by culling out the traditional knowledge from various sources, including present day scholars and presenting it in a manner suited to modern day understanding of sciences, history and economics.

Bharath Gyan collates and approaches the knowledge from an interdisciplinary and holistic angle.

The purpose behind this research and compilation are ...

# to disseminate and build awareness of the ancient knowledge of India

# to be able to identify applications if any, to meet present day needs

# to be able to identify areas where modern science can benefit from pointers in traditional knowledge systems and

# to organize a collaborative platform to network scholars both modern and traditional, for further research in potential areas.
They have jointly authored 9 books and 2 films, that span a wide spectrum of disciplines such as ...

# Sciences of India (with book and film Creation - Srishti Vignana)

# History of India (Historical Rama, Ramayana In Lanka, Ayodhya – War and Peace – a trilogy on the historicity of Rama)

# Economics / Governance (You Turn India, Telugu Tall – Her Unknown Side - Facets of Telugu Culture and Prosperity)

# Spiritual Science (Understanding Shiva)

# General (2012 – The Real Story, Triple Eclipse 2009)

Subject Matter Experts on Knowledge of India
The Hari couple have given over 200 lectures on the diverse topics in Bharath Gyan to wide audiences ranging from the research community in Indian Institute of Technology (IIT), Indian Space Research Organization (ISRO), Coast Guard, various management institutes in different cities, to other educational institutions, corporates and social organizations.
They have participated in many live discussion panels in different Television channels in Hindi, Tamil, Kannada, Marathi and English on topics based on Historicity of Rama, Rama Setu, Plunder of India, Corruption, Eclipses, Earthquakes, 2012 Doomsday predictions and such others, on different occasions.
Basically they provide a historic cum ancient knowledge based perspective to current day happenings.
They have held forth on a wide variety of questions on diverse subjects on live, dial in shows on Jaya Television, a Tamil channel, on many occasions and on a weekly basis.
With over 12 years of focused compilation of the knowledge of India across over 108 different topics, spanning close to 500 hours of factual, multimedia content, the Hari couple can be regarded as subject matter experts on the overall understanding of India across ages from over 8000 years ago to the present.
They are in the process of penning down an overall understanding of India in the form of a magnum opus titled "Autobiography of India" followed by "Breaking the Myths on India", due in 2013.
The list of subjects with a brief introduction, details of their books and films and talks presented can be seen in the website
www.bharathgyan.com
. They are also active on social media and can be followed on
twitter.com/bharathgyan
and
facebook.com/bharathgyan
for nuggets on the knowledge of India related to current day happenings.
The compiled knowledge is being repurposed and disseminated to worldwide audiences through an alliance of Art of Living – Bharath Gyan with the blessings and encouragement of His Holiness Sri Sri Ravishankar.
Introduction to D.K.Hari
: D.K.Hari hails from an Indian traditional family, with its roots in Kancheepuram, a very ancient town of India, which has been the silk centre of the South through the ages and is also known for its age old temples, saints and scholars. He had his schooling in Rishi Valley School, then graduated from Madras Christian College and did his post graduation in Business Administration from P.S.G College of Technology, Coimbatore.
After managing the family businesses in various verticals such as Oil and Gas and FMCG supply chain for 8 years and heading the Marketing for a building industry product for 12 years, during which he established the brand and sales network in India and abroad, he has chosen to follow the calling in his life, with the pursuit and seeking of knowledge through questioning – a temper perhaps influenced by his schooling days in Rishi Valley.
Besides Bharath Gyan, D.K.Hari is also involved in various social activities such as the management of,
1. Hindu Mission Hospital – a 200 bed multi-discplinary hospital in Tambaram, Chennai
2. Valluvar Gurukulam – a school for educating first generation children in Tambaram, Chennai
3. Dakshina Chitra – a heritage Museum, Chennai
Introduction to D.K.Hema Hari
: D.K. Hema Hari, born in Mysore, grew up in Bombay, to graduate in Physics and in Computer Engineering from Bombay University. She is a PMI certified Project Management Professional.
After a 20 year successful career in the IT industry, working for multinational companies, managing, mentoring and nurturing innovations and new technologies, she has changed gears and together with her husband, authors books, films and other works, to disseminate their Bharath Gyan compilation.
Their Motivation
: The Hari couple have travelled extensively to over 30 countries and visited various museums and cultural attractions to understand those civilizations, their culture and knowledge.
It was this exposure that motivated them to conceptualize and initiate "Bharath Gyan" as an endeavour to uncover the authentic history, sciences and tradition of India for suitable appreciation and application. Bharath Gyan bridges the gap in access to the authentic, ancient wisdom of and on India, in the manner conducive to present day needs and mediums.
Their method to collating this knowledge is purely driven by questioning, by allowing questioning to lead thought and search, which is again presented through questions and answers.
Bharath Gyan | www.bharathgyan.com | twitter.com/bharathgyan | facebook.com/bharathgyan
Share Your View via Facebook
top trend
what next
IBTL Gallery