Rajaratnam becomes a whipping boy for Wall Street misdeeds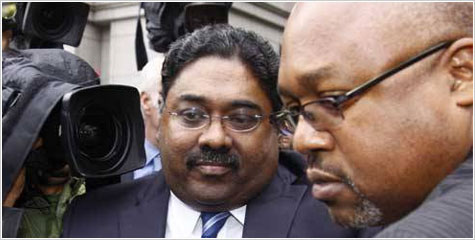 No one harboured any illusion that Galleon founder Raj Rajaratnam was going to beat the rap for insider trading, but the courts sent a shock message to Wall Street on Thursday by sentencing the hedge fund billionaire to 11 years in prison, one of the longest prison terms in history for insider trading.
The 54-year-old Sri Lankan, used inside information to trade in stocks such as Goldman Sachs, Google, Hilton, ATI Technologies Inc, Clearwire Corp and Intel. The trading generated profits or avoided losses of well over $50 million, prosecutors estimated.
Rajaratnam was ordered to forfeit $53.4 million and pay a fine of $10 million. Currently out on a $100 million bail, Judge Richard Holwell has denied Rajaratnam's request to remain free on bail while he appeals his conviction, and asked him to report to the federal correctional center in North Carolina on 28 November.
"The punishment doesn't fit the crime. Rajaratnam is a victim of prosecutorial overreach," said an investment banker of Indian heritage, whose firm's policy do not allow use of his name.
"Instead of going after the big fish, prosecutors socked it to a first generation immigrant as Raj is not part of the connected-elite. This isn't going to stem illegal exchange of confidential information on Wall Street."
More than 200 letters were written on Rajaratnam's behalf. He has also found surprisingly vocal support in the blogosphere and in stray media outlets like the Fox Small Business Channel and "The Daily Beast" which noted; "Rajaratnam was not a player in the 2008 financial crisis. Like Madoff, he's a kind of consolation prize, a distraction from the fact that none of the meltdown's central figures have even been indicted."
Rick Ackerman who is a partner in Blue Fin Financial LLC, a commodity trading advisor, had no doubt way back in May that Rajaratnam was going to jail but couldn't help rooting for him: "The poor schmuck! Like some zoo specimen of ecopistes miratorius, the common pigeon, he seems so very unlucky for having been one guy among 10,000 quasi-criminals on Wall Street whom the Feds chose to make an example of. Now, Rajaratnam will go to jail for crimes against no one in particular, even though many of his colleagues who stole directly from investors through deceit, misrepresentation and gray-area fraud will remain free and unaccused."
Spotlight on South Asians
"Two years ago, Rajaratnam stood at the summit of Wall Street, commanding his own financial empire," Manhattan US Attorney Preet Bharara said after the hearing. "It is a sad conclusion to what once seemed to be a glittering story."
From attorney Bharara who brought the insider trading case, to the accused, to a galaxy of star witnesses, there are South Asian fingerprints all over the sordid Rajaratnam saga. The trial grabbed attention because it exposed the illegal exchange of confidential information on Wall Street. Prosecutors also took the unusual step for a white collar probe by using telephone wiretaps to gather evidence.
Prosecutors said Rajaratnam's sources of information included Rajat Gupta, who until last year was a director at Goldman Sachs and Kamal Ahmed, a Morgan Stanley investment banker. The saga has diminished Gupta's reputation, a former McKinsey global head who retired in 2007 after becoming the first Indian-born CEO of a big transnational company.
Prosecutors maximised the impact of the Gupta tape by calling Goldman Sach's chairman Lloyd Blankfein to testify that Gupta's gossipy, buddy-buddy phone call to Rajaratnam violated the Goldman's confidentiality policies. In a July 2008 call, Gupta dishes the dirt on confidential board-privileged M&A discussions regarding Goldman's interest in acquiring Wachovia or AIG.
"Gupta could get a clean chit in the civil suit but it is still a huge embarrassment," said financial research analyst A Subramaniam.
Two of Rajaratnam's Wharton classmates, Anil Kumar, who became a partner at McKinsey and Rajiv Goel, who was a managing director at Intel testified against him at the trial. Kumar testified that he violated client confidentiality and leaked secrets about chipmaker Advanced Micro Devices.
Appealing the sentence
"This court's role is not to validate a prosecutorial public relations effort, nor is it to single out one man to serve as the whipping boy for Wall Street misdeeds," Rajaratnam's lawyers argued in court papers.
His defense lawyers said they would appeal the sentence to save their client from spending what could be the rest of his life behind bars. They said the federal guideline range overstated the seriousness of Rajaratnam's crimes, and called the term sought by the US "grotesquely severe." The core of their argument is that insider trading is mostly a "victimless crime" and that nothing Rajaratnam did caused others to lose money.
Hedge fund industry
Rajaratnam's crimes "reflect a virus in our business culture that needs to be eradicated," Judge Holwell said at the sentencing on Thursday in New York.
Amit Bhatiani, a partner at private equity firm CX Partners, earlier told Firstpost that the Rajaratnam case exposed the pressures to get an edge in the hedge fund business; "It has put the hedge fund industry on the back foot rather than South Asians. The hedge fund industry has to be more cautious about how it gets information."
Rajaratnam's sentence will reflect the changing attitudes toward financial crimes, Buchanan Ingersoll & Rooney's Stuart Slotnick told "The New York Times."
Share Your View via Facebook
top trend
what next
IBTL Gallery