There is little doubt that Gandhiji was anything less than a rockstar and a hero for millions. There is 1 thing however ..

The latest IBTL Opinion Poll predicts a power-packed performance for the NDA led by Narendra Modi. It appears that, not ..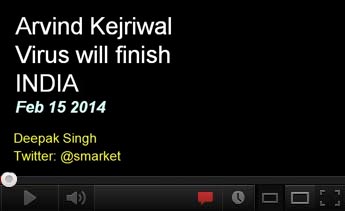 Do we really need to save India from Kejriwal Virus, explaining Deepak Singh.
Enron, Walmart and now GE - American companies have repeatedly been exposed using money power to buy influence in countries. American corporate excesses go hand in hand with t..

Trial by media is the norm in India where shameless journalists now wear party tags but shirts dipped in yellow and blood. A pillar of democracy, journalism just sentenced 13 ..

I felt compelled to write about the antics of Mr Kejriwal. Since his acrimonious divorce from Team Anna ended, he has paraded himself in the public eye like a typical cheap gl..

Overwhelmed at the sheer diversity and apparent chaos of India, American economist and envoy John Kenneth Galbraith dubbed it "functionary anarchy", a description ..

Probably the most powerful spectacle at the star-spangled Saifai mahotsav was the cynical disdain of the Samajwadi Party and its Government in Uttar Pradesh towards human suff..