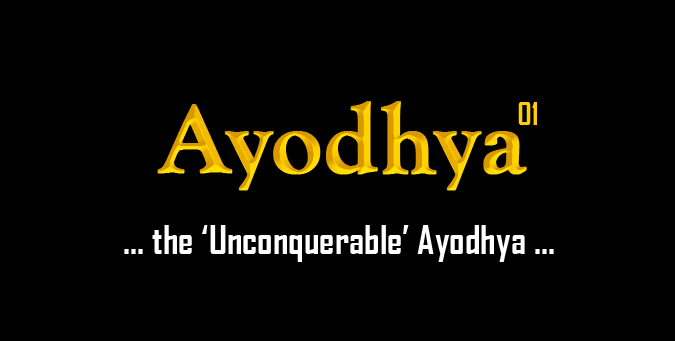 Ayodhya - literally means 'Unconquerable'. The mention of Ayodhya as the capital of the emperors of the Soorya Dynasty (Soorya Vansh) is found in ancient Sanskrit scriptures including the Ramayan. Ayodhya is known to have been founded by Manu, and the dynasty of Raghu, Aja, Dashrath ruled here. Ram, the iconic hero of Ramayan was born at this place, as per scriptures.
हिंदी में पढ़ें : अपराजेय अयोध्या, एक यात्रा ...
The description of Ayodhya in Ramayan is beautifully tendered into verse by Mr. Griffiths, who was the Principal of the Banaras College in the late 19th century. He writes, "Her ample streets were nobly planned and streams of water flowed to keep the fragrant blossoms fresh, that strewed her royal road. There many a princely palace stood in line on level ground. Her temple and triumphal arc and rampart banner crowned. There golden turrets rose on high above the waving green of mango groves and blooming trees and flowery knots between. On battlement and gilded spire, the pennon streamed in state, and warders with the ready bow kept watch at every gate."
The kingdom of Kosal was ruled by King Dashrath who is believed to be 56th descendents from Manu. His 3 wives Kaushalya, Sumitra and Kaikeyi lived intheir respective palaces. Shri Ram was born at the Kaushalya's temple, which is now termed as the Ram-janmbhoomi.
In the Brahmaand Puraan, Ayodhya is described as holiest of the 6 holy cities. Maharshi Vyaas refers to the story of Ram in the Vanopakhyaan of Mahabharat. Thus the city of Ayodhya and Shri Ram have been held in veneration by the residents of this land for centuries. Almost 200 years after Alexandar, during Mauryan rule, when Buddhism was flourishing, came the Greek King Minander. He embraced Buddhism and pretended to be a monk. He invaded Ayodhya and destroyed the temple on the Janmsthaan site. Soon he was defeated and killed in the battle by Raja Dhyumatsen of the Shrung Vansh, and Ayodhya was liberated.
The janmsthaan temple was reconstructed by King Vikramaditya. History knows of 6 different Vikramadityas. Historians have different opinions of which of them constructed the temple. Some say it was Vikramaditya of Ujjain who defeated the Shakas in 56 BC and after whom the Vikram Samvat is named. Others attribute the re-construction to Skandgupt who also called himself Vikramaditya and built the temple in late 5th Century AD. However, it is generally accepted as P Carnegie mentions in his Historical Sketch of Faizabad that Vikramaditya's main clue in tracing the ancient city where the river Saryu and the shrine still known as Nageshwar Nath, which is dedicated to Lord Shiva. It is also generally accepted that Vikramaditya constructed about 360 temples in and around Ayodhya. The tradition of veneration to Shri Ram has continued in the Hindu society in one form or another. The earliest known inscription to testify this fact is the Nasik cave inscription during the Satvahan dynasty. The celebrated Sanskrit dramatician Bhaas identifies Shri Ram with his Archanavataar.
Evolution of the tradition of worship of Shri Ram as an incarnation of Vishnu is evident in the early Rama-shrine inscriptions. The 4th century inscriptions at Ramtek (Madhya Pradesh), the 423 AD inscription at Kandhar (Afghanistan), the Chalukya inscriptions in 533 AD at Badami, the Mamallapuram inscriptions in the 8th century AD, Amba Maata temple near Jodhpur in 11th century AD, Ram temple at Mukundpur (Rewa, MP) in 1145 AD, Hansi inscriptions in 1168 AD, Rajiv Lochan Temple at Rajim in Raipur (Chhatisgarh) are some of them.
In 12th century, at least 5 temples existed in Ayodhya. They were, Guptahari at Gopratar-ghaat, Chadrahari at Swarga dwaar Ghaat, Vishnu hari at Chkrateerth Ghaat, Dharmahari at Swarga-dwaar Ghaat, and Vishnu temple, on what is known as the Janmbhoomi site.
Mehmood Gaznabi looted and destroyed the temple of Somnath and went back. His nephew Salar Masood advanced in the direction of Ayodhya. On 14th June 1033, Masood reached Behraich, 40 km from Ayodhya. The people united under the leadership of Raja Sohail Dev. Sohail Dev's army attacked Masood, defeated his army and killed Masoon himself. Abdul Rahman Chishti writes in the biography of Masood, titled, "Meerat-e-Masoodi".
".. maut ka saamana hai, firaaq soori nazdeek hai, hinduon ne jamaav kiya hai, inka lashkar beintahaa hai, sudoor nepal se pahaadon ke neeche ghaghara tak fauz mukhalik ka padaav hai. Masood ki maut ke baad ajmer se Muzaffar Khan turant aaya par wah bhi maar diya gaya .. Arab Iraan ke har ghar ka chirag bujha hai .."
(It is trial with death, but the destination is near. Hindus have deployed armies in huge number from faraway Nepal's mountains to the basin of Ghaghra river, there armies stand. After the death of Masood, Muzaffar Khan came from Ajmer but he too was killed. Every house of Arab and Iran has lost a son in this battle.)
to be continued : Ramrajya to Mughal kingdom to Secular rule, the tradition of Ram worship...
Share Your View via Facebook
top trend
what next
IBTL Gallery