Sab Dharti Gopal Ki...? - The Land Acquisition Conundrum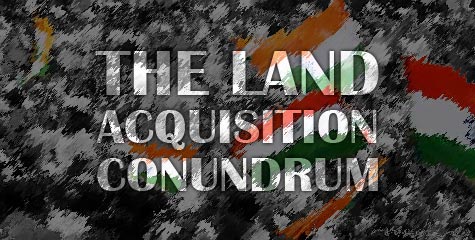 Perhaps this might be coming up from the ramparts of Red Fort in a week's time. "With stroke of the midnight, when the world sleeps, India shall sleep too and when it wakes up would realize that all the land of farmers, regardless of single, multi crop or barren have been acquired by the Government, transferred to Institutional Investors and Corporate players and farmers for all are now left "independent" to contest their rightful claim for its compensation". No Sir not the land only compensation.

Strangely, when the "Monsoon" (and not the Drought) session is in progress, the contentious Land Acquisition Act 1894, lapsed multiple times in the Parliament in its new avatar, the Land Acquisition (Amendment) Bill 2007 and Rehabilitation & Resettlement Bill 2007 is "again" scheduled to be taken up for discussion.
The objections were then decided to be filed over a pitched battle on Delhi – Jaipur, National Highway No. 8 and the Government immediately decided to agree for negotiations. Period.
The trend of gobbling land parcels citing national interest as "public purpose" around the country has its roots in the "principle of eminent domain" a practice resulting in "compulsory purchase" / "compulsory resumption" which we has been enforced under the draconian shadow of "Land Acquisition Act 1894" adopted from colonial powers. This act was explicitly created to facilitate government acquisition of private land.
This act since then has been most vehemently opposed than any other, more specifically deployed with its brutality after the opening of the markets under the liberalization regime. The powers vested under this act with the government have been questioned repeatedly forcing absolute interpretations defining "public interest". Under strictures from Hon Supreme Court and pressure from civic organizations, the principle act was amended by the government through Land Acquisition (Amendment) Bill 2007. The amendments include rights of those displaced by land acquisition limiting the definition to acquire land under public purpose. The bill is also supposed to establish Land Acquisition Compensation Disputes Settlement Authority (LACDSA) at State and National Levels to arbitrate any disputes. This to be read in conjunction with Rehabilitation and Resettlement Bill also introduced in 2007.
A complete detailed analysis of the Land Acquisition Act (Amendment) Bill 2007 & Rehabilitation & Resettlement Bill (2007) could be found
here
by the author in a II part series in January, 2011.
Owing to these protests inside and outside of the Parliament, a standing committee under Ministry of Rural Development (Department of Land Resources) was formed under Smt. Sumitra Mahajan and its report was presented in Lok Sabha on 17
th
May -2012. Some salient points which the committee deliberated were to inter alia recommend;
Deletion of provisions for acquiring land on behalf of Public Private Players
and Private Companies by the authorities,

Inclusion of definition of "Infrastructure Projects" under "public purpose" definition,
which has hitherto provided to the state a sweeping discretion to acquire land citing
"Infrastructure projects" and "consequent "urgency" and deletion of
Clause (3) (0) (5) in the LA (Amendment) Bill

Shifting the onus of R&R as a state subject and allowing them to provide a
provision for threshold,

Not much changes in 16 legislations exempted from the list including
SEZ Act, NH Act, Railways Act et al

Empowering Gram Sabha's to be more inclusively involved in the process,
and the most important of all

Suggesting replacing "minimum value" to "market value" and using different
terms as in Clause (26) for initial estimation of market value and revised
estimation of "market value" of the land.
This has been the contention ever since the LA (Amendment) Bill 2007 and R&R Bill 2007, to be read in conjunction, has been decided to be presented in the parliament. The farmers all across the country who have nothing but their land, given certainly a choice shall not succumb to subjective instances of "Public Purpose" to have their land acquired. However best now contest the rightful claim to compensation as "market value" to "minimum value" as earlier used to be decided "in the opinion of the Collector" under the 1894 Act.

Ironically, this brings out a sensitive issue to fore. Farmers have all given hope to secure their land parcels, few have fought bravely and never conceded to the designs of the state machinery which has been severely bent to afford profitability to big land developers and corporate entities raking in profits unimaginable even to the farmer on the quantum of money which gets generated in the process.

The glib speaking, refer to these skirmishes as "anti development" activities comparing them with "naxali's" when even the stark reality and differentiation is all but eluded to comprehend the situation of these distressed farmers. One uses this with a generalist temperament, actually with a social contempt, since each would like to look for suburbs to invest in a 2BHK property owing to the city rates going up, by fair and justified means depending solely upon one's spending power and with a promises of no concern to worry, since a metro connectivity or expressways has been promised under the Master Plan linking it up in few years making it good investment opportunity with returns. None perhaps is aware of the sinister background.

This absence of sensitivity prevails even for the pitch battles the "original" owners have to plough protecting, and now to reclaim through countless civil law suits waiting for judgments, fought sometimes over two generations to maintain the title of ownership of their lands, for some as the only means of livelihood.

Hence when it comes to "Public Purpose" it's always the "Kisan" who needs to surrender for the largesse of the public good and never, ever this trip and theory of returns makes it back for him.

It's quite surprising that the "aye's have it, the "aye's have it" on the floor of parliament goes up in less than 2 minutes when it comes to increase in compensation of our Hon'ble Members of Parliament – The "Lok Sevak's" but when it comes to "Desh Sevaks" – the Kisans of the nation, it takes upwards of 5 years to lay bare the policy of compensation and rehabilitation for them to sustain themselves of the insult which is heaped with impunity citing national interests and Act and Clauses and repeated Public good.

Land is needed for development but "land" needs to be qualified, adequate safeguards needs to be defined, elaborate policies for rehabilitation and resettlement affording for long term sustenance or compensation should be outlined, the measures have to be decisively firm and addressal of issues equally swift.

An Agri-surplus nation is now forced to face the severest drought this year, since the place from where this is being penned, used to be a multi-crop land, tilled by the farmer who on the developmental plank was forced to vacate for us to relish these "developmental" luxuries.

We as kids, used to play a very fond game on Janmashtami every year " Hathi Ghoda Palki, Sub Dharti Gopal Ki", perhaps some do even today but something which brings in cheer to countless of us, perhaps is a just sheer cry in desperation, frustration and abject disappointment and is a constant question looking squarely in our eyes on this conundrum..

"Hathi, Ghoda, Palki - yeh ab to hai bhaiya Sarkar Ki"
"Kya ab bhi hum kahen, yeh Sub Dharti hai Gopal Ki"..???
Author is an Activist and Student of International Law. He can be reached at [email protected] or on twitter www.twitter.com/abhjoshi -
Share Your View via Facebook
top trend
what next
IBTL Gallery