Libya, and the Chinese yuan, give new edge to Putin's Pakistan visit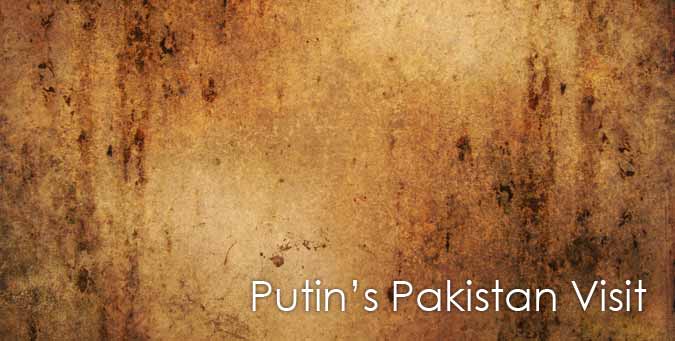 The murder of the US envoy and three other diplomatic staff members in Libya on the night of Sept 11 following telecast on YouTube of a film maligning the Prophet, which inflamed sentiments of Muslims worldwide, has given an entirely new dimension to Russian President Vladimir Putin's pre-scheduled visit to Pakistan early next month. As Washington dithers between containing the fallout and flexing muscle in the region by sending troops towards Iran, both Moscow and Beijing (which has cordial relations with Islamabad) are getting ready to assume a greater leadership role in international affairs.

Thwarting America's regime change ambitions in Syria and Iran would now be high priority. Moscow and Beijing have already coordinated moves in the Security Council to bar US-NATO from initiating Libya-style regime change in Damascus, and can be expected to intensify resistance to US manoeuvres.
On Sept 6, China announced its decision to bypass the dollar for global oil customers and allow them make purchases in yuan. Shockingly, this announcement was ignored by the Indian Media, though it will surely help India's oil purchases from Iran and benefit our overall energy security. [Enhanced FDI in the Indian media can only be to our detriment, and is a move that merits serious reconsideration].
Anyway, as the yuan purchase catches on, the dollar will lose its place as the global reserve currency and Col. Muammar Gaddafi, who died a brutal death because of his determination to nix the dollar with an African gold dinar, will be vindicated in history.
On Sept 7, in a clearly coordinated move, Moscow and Beijing signed an agreement whereby the Russian Federation agreed to sell oil to China in any and all amounts desired – without using the dollar. In other words, China will sell Russian oil – and the oil of any other nation empowering it to do so, such as Iran which is being squeezed by US sanctions – in yuan. It will take on the US oil majors on behalf of all nations resisting US hegemony in oil.
A new Sino-Russian alliance is thus emerging as a major pole of the comity of nations; it will be in the interests of India and other nations seeking to be independent, to climb on the bandwagon.
In this fast-changing and evolving international scenario, President Putin will land in Islamabad early October, the first ever Russian head of state to do so. He will end the frostiness induced by the Cold War and kick-start Moscow's new assertiveness in southern Asia where hitherto America enjoyed preeminence. Russia was keen to enhance its profile in the region following India's increased closeness to Washington since the UPA came to power in 2004; though changing events have made New Delhi pause and take a more nuanced stance on several issues. Hence Mr. Putin has no provocation to abandon a traditional ally, and is already scheduled to visit New Delhi in November for the 13th Annual Indo-Russian Summit.
Afghanistan and Iran figure high on the Moscow-Islamabad agenda. Indeed, Mr. Putin will also be attending a quadrilateral meeting on Afghanistan with leaders of Pakistan, Afghanistan and Tajikistan.
On its part, India is keen to have a sphere of influence in Kabul in the wake of the withdrawal of US-NATO troops; Pakistan is determined not to be denied its 'strategic depth'. Russia may be thinking of aligning with Pakistan to get a foothold in Afghanistan to maintain the regional balance of power, just as Iran has been coordinating moves with India. All four nations share concerns that Afghanistan may lapse into a civil war-like condition in the absence of a domestic consensus regarding the future political set up there and the continued fragility of the Karzai regime. Greater regional coordination brokered by Moscow could be in order.
Already the neighbourhood is becoming more closely intertwined, with both Moscow and Beijing endorsing Tehran's right to nuclear technology and opposing American sanctions against Iran. Pakistan, already close to China, will benefit from increased warmth with Moscow in the wake of growing hostility and drone attacks from America. Russia supports Pakistan's desire to join the Shanghai Cooperation Organisation (SCO).
Foreign Minister Hina Rabbani Khar visited Russia in February this year to set the tone for Mr. Putin's visit. President Zardari, who had previously visited Moscow in August 2010 to participate in the four-nation summit between Pakistan, Afghanistan, Tajikistan, and Russia on regional security and economic development, went again in May and army chief Gen. Ashfaq Kiyani is going there this month, the first such visit since the advent of the Cold War. Clearly, the region is changing fast.
One immediate purpose of Mr. Putin's visit is to discuss the financing of the $1.5 billion Iran-Pakistan Gas Pipeline Project. Russia is also keen to finance the transnational Turkmenistan-Afghanistan-Pakistan-India gas pipeline project, and is negotiating with Iran, China and Russia.
Reports say Iran has proposed a plan to lay Pakistan's portion of the pipeline on the basis of 'supplier's credit' whereby Tehran will provide the pipeline and compressors on credit, and Pakistan will make payments after two years. Iran has offered a loan of $250 million on government-to-government basis; Pakistan needs $500 million.
This will be a heavy duty visit and the Russians are coming with all cylinders firing. They are going to fund the renovation of the Guddu and Muzaffargarh power plants; renovation and expansion of the Pakistan Steel Mills from 1.1 million tons to 1.5 mt per annum at an estimated Rs. 30 billion; help in upgrading the Railways tracks, and discuss projects in the energy and education sectors, besides investments in oil, gas and mineral exploration.
In a working group meeting earlier this year, Russia offered $500 million for the Central Asia South Asia electricity project which will bring 1300 MW of surplus electricity from Tajikistan and Kyrgyzstan. This is a continuation of the Russian policy of returning to its "near abroad". Russia needs stability in the Central Asian countries where Islamic terrorism is rearing its head and the terror groups have links inside Pakistan. Enhanced engagement with Islamabad may pay dividends here. Russia meanwhile is continuing to cooperate with Washington on the shipment of NATO equipment out of Afghanistan through the Northern Distribution Network.
A major area of cooperation will be currency swap agreements and opening of bank branches in the two countries.
New Delhi, which has diversified its arms suppliers in recent times, will keenly watch if Moscow opens its arms bazaar to Islamabad. Some years ago, Russia joined hands with Ukraine to sell tanks to Pakistan.
Share Your View via Facebook
top trend
what next
IBTL Gallery