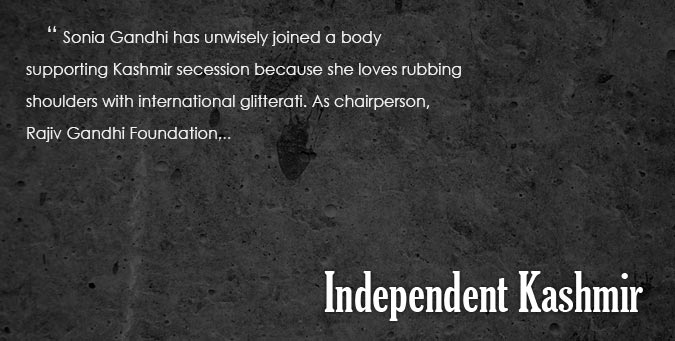 UPA chairperson Sonia Gandhi has unwisely joined a body supporting Kashmir secession because she loves rubbing shoulders with international glitterati. As chairperson, Rajiv Gandhi Foundation, Ms. Gandhi is co-president of the Forum of Democratic Leaders in the Asia-Pacific (FDL-AP), an organization promoting democracy (sic) in this region. Other co-presidents include former Philippines President Corazon Aquino; South Korea leader Kim Dae-Jung; and former Costa Rica president Oscar Arias Sanchez.

Honorary senior advisors include Myanmar leader Aung San Suu Kyi; South Africa Anglican Archbishop Desmond Tutu; former President of the Soviet Union Mikhail Gorbachev; and former German President Richard von Weizsaecker. As all these leaders are firmly pro-American, it is awkward to find a politician from a leading non-aligned nation in this league.
In November 1996, the FDL-AP held an international seminar in Manila, Philippines, on "
Transition from Dictatorship to Democracy: the Lessons for Burma and Asia
". The Indian signatories were M Rasgotra, vice chair, Rajiv Gandhi Foundation, and George Fernandes, MP. The meeting attacked the Myanmar regime, urged ASEAN governments not to it grant membership, and pressed for complete economic, even tourist, boycott. It lamented the "oppression of major ethnic nationalities" in Myanmar, but neither FDL-AP nor the Rajiv Gandhi Foundation has spoken against the current violence against Rohingya Muslims, probably taking a cue from Aung San Suu Kyi's disrespect for their plight, a fact noted internationally.
In a section,
Independent Jammu & Kashmir: Justifications & Advantages
, FDL-AP asserts,
"the best and most logical solution of the Kashmir issue is to re-unite Indian and Pakistani controlled parts of Jammu Kashmir State (the Vale of Kashmir, Jammu, Ladakh, Azad Kashmir and Gilgit-Baltistan) and make it a fully independent country having friendly relations with both India and Pakistan…"
Amazing that through all the years of Track II diplomacy and then Pakistan President Pervez Musharraf's visit to Agra to promote this formula, Sonia Gandhi never once informed the nation that she was part of an organisation pushing this agenda. Justifying independence (read secession from India), FDL-AP avers that unless the dispute over J&K is resolved, nuclear war is imminent. It argues that the majority of people in the state favour independence.
In a perverse version of history, FDL-AP claims that the principal Indian and Pakistani leaders were committed to complete independence of Kashmir. Mr. Jawaharlal Nehru had declared on August 9, 1951 and Indian representative Gopalaswami Ayengar had declared at the UN Security Council on Jan. 15, 1948 that India fully recognized Kashmiris' right to complete independence; Mr. Mohammad Ali Jinnah's statements of June 17, July 11 and 30, 1947 recognized Kashmiris' right to independence.
An independent J&K, says FDL-AP, can progress through eco-tourism and technology-based development, and in the current era of economic globalization, borders have less sanctity (the American dream for Asia). Indian and Pakistani concerns over security and water rights would be ensured by treaties and a tripartite permanent monitoring commission. Both countries would save on defence expenditure. All they have to do, says FDL-AP, is part with the territories of Jammu Kashmir now under their respective control, and enjoy permanent peace, prosperity and glory.
Conducting a muscular campaign, the FDL-AP website carries a long interview (diatribe) by Lt. Gen. (retd) Nishat Ahmad, Director, Institute of Regional Studies, Islamabad (February 13, 1998), but no counterview by an Indian general or security analyst,
in all these years
. Lt. Gen. Ahmad blamed the major Western powers for allowing India to reject United Nations suggestions for plebiscite and welcomed third party mediation by the United States, European Union, or United Kingdom. He admitted Pakistan's relationship with Shabir Shah and the All Party Hurriyat Conference. He felt that Jammu region being mainly Hindu and Ladakh being largely Buddhist could remain with India (Musharraf formula), leaving the (Muslim) valley to Pakistan.
Also associated with FDP-AP is the Asian Federation Against Involuntary Disappearances which includes the Association of Parents of Disappeared Persons in '
Indian-occupied Jammu and Kashmir
'. Recently, George Soros' Open Society Institute sponsored a video discussion on Kashmir with Basharat Peer, Kashmiri journalist and Open Society Fellow; Steve Coll, president of New America Foundation and staff writer at
The New Yorker
magazine (moderator); Mridu Rai, associate professor of history at Yale University, and Pankaj Mishra, author and journalist. Obviously there has been much heavy duty advocacy of Kashmir independence unknown to ordinary Indians, and we have little idea of how far it has penetrated the secular intelligentsia, as Ghulam Nabi Fai once did.
American journalist Kathy Arlyn Sokol has filmed over 50 hours of interviews with '
grassroots leaders and independence advocates
' on both sides of the state. In May 1999, Sokol was a special invitee at the UN Hague Appeal for Peace Conference, Kashmir Panel, where she said Kashmir's location between India, Pakistan and China compared with Switzerland's position between Germany, France and Italy, so a similar decentralized governance model would work for the state. She enthused that as in Eastern Europe and East Timor, changes could occur with 'astonishing speed' and 'neutral' Switzerland should mediate a plebiscite to decide Kashmir's future.
In fairness, Sonia Gandhi does not follow such activities in detail, being content to reading written speeches and engaging in photo-ops with dignitaries. But when a retired veteran diplomat and senior official of the Rajiv Gandhi Foundation attends meeting of organisations expending funds and energy to dismembering India, she owes it to the nation to clarify her personal stand as well as that of the Foundation on the issue of India's national sovereignty and territorial integrity. Sonia Gandhi should immediately apprise the ministries of External Affairs and Home Affairs about all foreign foundations she is associated with so that they can guide her whom to shun. As the wife of a former Prime Minister and president and elected MP of the ruling party, she cannot join
dubious organisations
embedded in the western colonial agenda of an independent Kashmir that would serve as their base for checkmating India, China, and Russia.
References: The Forum of Democratic Leaders in the Asia-Pacific (FDL-AP)
Sandhya Jain, Editor
Vijayvaani
| Follow the writer on
twitter.com/vijayvaani
Share Your View via Facebook
top trend
what next
IBTL Gallery