China diverts Brahmaputra : Why we Indians are so ignorant?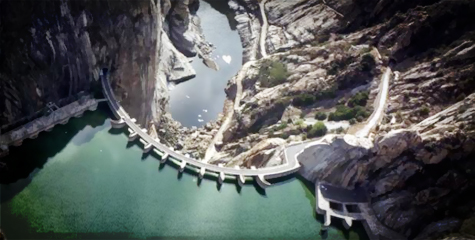 Itanagar, March 20: China is diverting Brahmputra water by building a huge dam on its side of the Brahmputra River – known as Tsangpo River in Tibet. According to reports, the dam is being constructed at a place called Namcha Barwa on the eastern plateau of Tibet.
It is at this point in Tibet that China is reportedly building the world's largest dam, with 26 turbines, expected to generate 40 million kilowatts per hour of hydroelectricity.This massive water control project involves the construction of 28 dams. It is considered as biggest hydro engineering project in Asia.
It is unfortunate that while China is diverting India's water, Arunachal is very much obsessed with this issue but importantly Indian UPA Government is patting itself saying that 'All is Well' and apart from Arunachal Pradesh, all other Indian states and citizens are totally ignorant about this issue.
An association of five top Chinese power companies is overseeing the 1.138 bn Yuan project.
The Brahmputra, popularly known as Yarlong Tsangpo River among the Tibetans, makes a steep drop here which makes the site crucial for the construction of a huge dam. It is said that the power output could be twice the output of the famous Three Gorges Dam over the Yangtse.
River Brahmaputra is very important for India and Bangladesh. The Brahmaputra River basin in India is most generously gifted with a fabulous water wealth that accounts for nearly 30% of the total water resources and about 40% of the total hydropower potential of the country.
For Bangladesh, the River is even more crucial as it provides for fresh water and the annual gift of the fertile silt for farming.
In India, Arunachal farmers couldn't believe their eyes when they see the river which provides them bread and butter suddenly dried up. They are astonished to see that the river which used to flow with its full swing is now shrinking about a kilometer from its bank in Pasighat town in East Siang district. Farmers say they have not experienced the phenomenon in the last half-decade. This unusual phenomenon has occurred due to diversion of Brahmaputra water by China.
According to reports, the mighty Brahmaputra river (known in Arunachal as Siang River), considered as a life line to North eastern states and Bangladesh and Tibet has suddenly dried up and the water level has fallen down drastically in the last few days. Media reports alleged that river dried up due to the diversion of the Brahmaputra's river course in the upper reaches of Tibet by China.
Arunachal Pradesh government suspects China's role behind it. The state government has urged the Centre to conduct a study to ascertain the ground reality.
Tako Dabi, political adviser to CM Nabam Tuki, expressed apprehension that China could have diverted the water of the river or there could be some artificial blockade due to which this has happened.
Dabi suggested that the government, its agencies like the Central Water Commission, should immediately conduct an in-depth study in collaboration with the state government, to find the crux of the problem.
Surprisingly central government seems not very serious about Arunachal's obsession. Government has slammed the media reports regarding drying up of Brahmaputra River. The Central Water Commission, which monitors the country's river basin systems, says there is no information of any 'abnormal' decline in the water level of Siang.
In a press release of Indian Ministry of Water Resources, the Government stated that the apprehensions expressed by the state Government regarding possible diversion of the Brahmaputra by China is not correct and devoid of facts. But the video footages of shrinking river tells different story.
External Affairs Minister S.M. Krishna on Friday reiterated that there was no evidence of construction of any dam on the river by China. "I have answered on this in the Parliament. I have gone on record to say that our satellite pictures do not convey construction of any storage activity on the Brahmaputra by Chinese authorities. Our ambassador is here. He has been apprised of it. He is aware about the issue, so we will get the report," Krishna said.
Also China has officially clarified that such reports are not "consistent with facts." China said the dam being built by it on river Brahmaputra will have no impact on the downstream flow of the river into India.
"Our projects have not affected the lower stream regions, including those in India," China's foreign ministry spokesman Hong Lei told reporters when asked of his nation's water usage on the river.
Arunachal farmers are concerned with the move of China as Brahmaputra (Siang) is regarded as the lifeline of north eastern region. More than 185 million people in northeastern India and Bangladesh depend on the Brahmaputra. In the Indian state of Assam 80 percent agriculture relies on water from the river and 60 percent of power from hydroelectric projects comes from dams on the river and its tributaries.
Diversion of Brahmaputra water in the upper reaches of Tibet by China for its ambitious hydro engineering project has triggered problems for agriculture and industries in Arunachal. Additionally the project has sparked criticism from environmentalist. Ecologically the project is also controversial, with many experts questioning whether or not the diversion's source can spare the water.
Tako Dabii warned it would be much more disastrous, and would set alarm bells ringing, particularly in New Delhi and Itanagar, besides all those associated with disaster management. There are also worries that an earthquake could destroy a Chinese dam and cause a catastrophic flood in Arunachal Pradesh and surrounding regions that could kill thousands.
Last year Minister of State for Environment and Forests Jairam Ramesh had said that the project is "unacceptable" and stressed the "great fear in India" would be China's water diversion of the Brahmaputra, which may impact Northeastern India ecologically and bring the threat of drought to the region.
However, Indian Government busy in establishing bilateral ties with China is ignoring this highly important issue. India's foreign policy has never touched sensitive issues on India's side. But what about Indian populace which is highly ignorant about China's this new kind of aggression?
Share Your View via Facebook
top trend
what next
IBTL Gallery