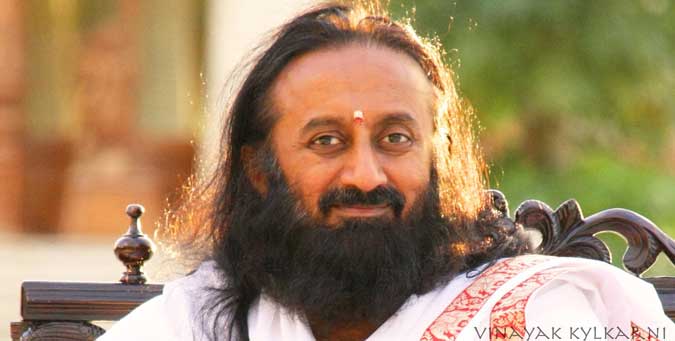 It is no hidden secret that the Indian voters can make this national election a significant turning point in the history of India. Charting a new course of nation building hinges on people engaging in the process and making an informed choice. In the cacophony of party manifestos, loud promises and passionate mudslinging many seem to have missed the fundamental point – a manifesto of India. What India needs is a leadership that has the wisdom and influence to inspire people to compromise short-term gratifications and personal gains for larger social good.
This political class is clearly limited in its ability to deliver on this front. To whom can Indians look up for Rashtraneeti instead of being pawns of Rajneeti?
For those whose vision is often limited to the obvious, a guidance is necessary from those who have an ability to see beyond the evident. It is a welcome sign that leaders of unquestionable integrity like Sri Sri Ravi Shankar are actively filling up this vaccum. They have captured the hearts of millions of Indians with their wisdom and compassion. A saint is free of personal agenda and ambition and is therefore the best suited to dispense advice on issues of personal and national interest. They are not clouded by prejudices of any kind and can galvanise people to channelize their apathy and frustration into constructive nation building.
Issues of politics and governance affect everyone in the country and one doesn't have to be a politician to talk about them. People come to a saint with questions about everything from relationships and health to financés and career. When a question about governance is asked, a guru has to speak the truth and not talk like a politician. He has nothing to lose or gain and therefore can give a dispassionate and sound guidance. People who accuse spiritual gurus of playing politics fail to understand this. The guru plays in a field much larger than politics and provides a perspective that enables the leaders and the constituents to set public interest over self interest.
In fact, Indian history shows that long lasting social and political reforms were pioneered by spiritual leaders who not only prayed but also took responsibility for the welfare of society. It will be seen as highly irresponsible if a Guru of Sri Sri Ravi Shankar's stature abdicates his duty and does not exercise his wisdom and influence in taking the country's affairs towards greater good. Democracy cannot thrive on laziness or fear of criticism.
He has to be commended for sticking his neck out and educating the masses on the ongoing electoral process. His message to the masses has centered around an appeal to all Indians to definitely vote and not give in to the influence of money and muscle power. He has exhorted the people to bring a strong and stable government at Centre which can take decisive actions to pull the country out of economic mess and policy paralysis. A shaky coalition government sucking up to the pushes and pulls of allies and struggling to stay in power will be a disaster for India at this juncture.
In the current polarized and corrupt scenario, India needs to hear leaders who are wise enough to know the Truth and bold enough to speak it out in the interest of the nation.
Author : Mamta Kailkhura | Photograph : Vinayak Kylkarni
Share Your View via Facebook
top trend
what next
IBTL Gallery