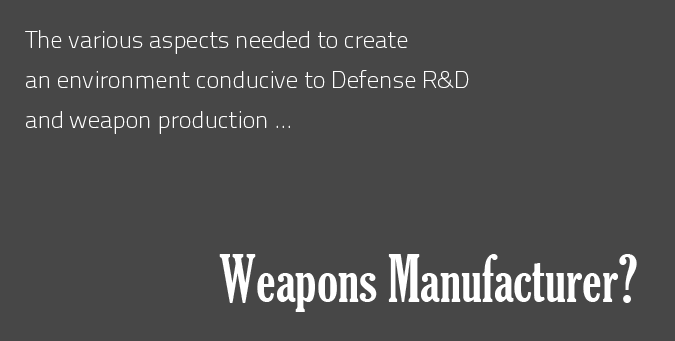 Can India become a Weapons Manufacturer ?
This article will explore the various aspects needed to create an environment conducive to Defense R&D and weapon production. Mere announcements of increasing or decreasing FDI percentages is not going to be of any use. Like every other sector this one too is tied down by red tape and obstructionism.
Policy changes needed
1. Typically small organizations come up with the most revolutionary ideas. So dependence on the usual Tata, Birla, Mahnidra & L&T must stop. We must remember that these so called 'captains' of Industry couldn't innovate beyond the Ambassador. So any policy change that is announced must encourage participation of startups and small teams.
3. No one will invest time & money in Defense R&D or production if it takes them decades to probably get a chance to sell to the armed forces. Procurement procedures need to be simplified or no investment will take place
5. Army testing facilities must be opened up for the private sector. If a company designs a new assault rifle or RPG or shaped charge projectile, where will it test? This is where the huge defense estates can be put to use. In an age where land is expensive it is silly to expect Defense companies to waste their capital on land purchases.
7. Private sector must be free to employ foreigners if needed. No pay scale criterion exists for the private sector and this must be used to attract the best brains from places like Lockheed, Boeing, Sukhoi, Mikhoyan etc. This is incidentally the same approach used by China & US on the breakup of the USSR.
9. Companies must shed the usual HR nonsensical practise of hiring. After all an MBA is incompetent to judge the worth of a scientist.
2. Weapon design teams are ALWAYS centered around individuals. So the team leader must have absolute control over hiring, firing and decision making. All great weapon teams like Skunk works, Phantom works, Su Design bureau are organized in this fashion.
4.<span class="Apple-tab-span" pre;"=""> Machining and testing facilities must be close. The design iteration steps should be in a matter of days not months or years.
Author : manekshaws | Follow the writer on twitter/manekshaws
- - - - - - - - - - - - - - - - - - - - - - - - - - - - - - - - - - - - - - - - - - - - - - - - - - - - - - - - -
Disclaimer: The author is a commentator on issues of national interest. These are his personal views and do not necessarily reflect IBTL's opinion.
- - - - - - - - - - - - - - - - - - - - - - - - - - - - - - - - - - - - - - - - - - - - - - - - - - - - - - - - -
Share Your View via Facebook
top trend
what next
IBTL Gallery