Bhushan Paid Price for Being Pro-Pak on Kashmir: Sena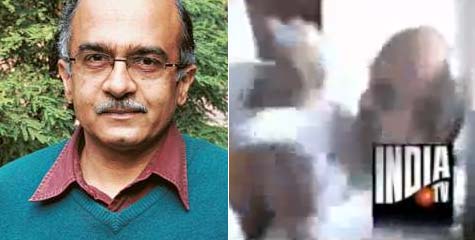 While the entire political class and social workers are exhibiting their reverence to non-violence and are condemning the attacks on Prashant Bhushan, going against the public sentiment, which was against Prashant Bhushan's anti-national remarks, the Lion of Maharshtra has roared in favour of the audacity of the 3 young men who committed this act.
Shiv Sena Chief Bal Thackeray said that Bhushan paid the price for advocating Pakistan's cause. "Should Prashant Bhushan be showered with flowers for his anti-national comments supporting plebiscite in Kashmir, which Pakistan has been demanding," Thackeray asked in an editorial in today's edition of party mouthpiece 'Saamana'. "Those who attacked Bhushan were not thieves or goons but had gone to question him on his comments on Kashmir," he said.
The Sena supremo said Kashmir was the "crown" of India and Bhushan spoke of cutting it off. " Thackrey also criticised Anna Hazare's double standards. He wrote that Anna Hazare has not condemned his team member's comments, but condemned the attack on him. The Sena chief said certain individuals and groups are getting unnecessary and undue importance and 'Team Anna' is one such group.
Share Your View via Facebook
top trend
what next
IBTL Gallery